Posted on
Sat, Feb 9, 2013 : 8:51 a.m.
Yo La Tengo showcases 2 very different sides at Michigan Theater show
By Will Stewart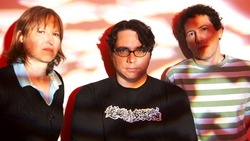 What did you think of the concert? Leave a comment and / or vote in the poll at the end of this post:
Yo La Tengo doesn't need an opening act.
The band, longtime indie-rock stalwarts, opened for itself at the Michigan Theater on Friday, providing a short, mostly acoustic, opening set, before returning to rock out during a tour-de-force show that could actually be seen as being even more than two shows.
But we'll get to that.
It makes sense that the trio would open for itself. Throughout its career, Yo La Tengo has been its own Yin and Yang. On the one hand, it's a quiet, introspective, Velvet Underground-inspired folk-rock band that leans heavily on the off-kilter harmonies of husband-and-wife duo Ira Kaplan and Georgia Hubley on guitar and drums respectively.
That was the band, along with multi-instrumentalist James McNew, that opened Friday's show, maundering breathily though a half-hour set that leaned heavily on material from its quiet, new record, "Fade."
While generally pleasant, the opening set came across as somewhat ragged and suffered from a lack of dynamics, with Hubley playing brushes on a stripped-down drum kit and Kaplan strumming an acoustic guitar.
The politely quiet set was also marred by a late-arriving crowd, many of whom seemed surprised that an opening band other than the headliner wasn't on stage when they arrived at 8:30 p.m. for an 8 p.m. show
"We spent a good part of the day trying to remember just how many times we've played in Ann Arbor over the years," Kaplan said, before speculating whether they had opened for the Sundays at the State Theater.
"It's definitely been a lot of times."
By the time the band returned for a second set, Kaplan's acoustic guitar had been replaced on stage with a Stratocaster and a pair of Fender amps, Hubley was behind a full kit and McNew was in front of a bass cabinet as tall as he was.
And that's when the trio unleashed the "other" Yo La Tengo: the unhinged, fiercely overdriven rock band that straddles the line between (yes) the noisier, more-aggressive era of the VU and and fellow indie pioneers Sonic Youth.
And this is the band that's easily twice as compelling as its gentler counterpart.
Kaplan is an excellent guitar player, who is as his best when he's able to plug in and shred, coaxing feedback from his axe, while Hubley and McNew bash away behind him.
These were the highlights of the show, played as if unhinged, roaring through a reprise of "Ohm," and offering definitive takes on chestnuts like "Drug Test and "Satellite" before tearing the guts out of "The Story of Yo La Tengo" to close the show in a wash of feedback.
Which brings us to the third show within Friday's show. No Yo La Tengo show is complete without a passel of inspired covers, and Friday was no exception. In addition to an appropriately over-the-top reading of Neil Young's "Time Fades Away," the band sailed through no fewer than three Kinks classics.
"Playing two Kinks covers is ridiculous," Kaplan mused. "But three is just right."
Well, maybe. "Oklahoma USA" during the first set was beautifully languid and sparse, while "This is Where I Belong" was given a lush, harmonic treatment. But the band made a hash out of "Big Sky," leaving us feeling as if two Kinks covers were just right and three was ridiculous.
Ever the record geeks, though, the band redeemed themselves with an appropriate nod to its host city in the form of a ragged-but-right take on Half-Life Half-Death's "Get Down" on the legendary A-Squared record label.
An inspired choice by an inspired band with impeccable taste. Or, as a friend said after the show, "Ira sure knows how to play to all the record geeks in the crowd."