Posted on
Sun, Jan 31, 2010 : 5:51 a.m.
University Dance Company showcasing modern movement with "(Re)Visionary Dances"
By Susan Isaacs Nisbett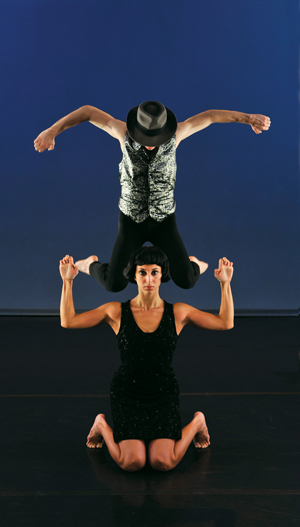 Peter Smith Photography
Like much else in the world, modern dance proceeds by a process of action-reaction. So there's truth, as well as a catchy ring, to the title the University of Michigan dance department has given its University Dance Company upcoming concert at the Power Center: "(Re)Visionary Dances."
That's especially so since the show's headlining dance, Paul Taylor's "Le Sacre du Printemps (The Rehearsal)," created 30 years ago by this modern dance master (who turns 80 this year, as his company turns 50), is a reconceptualizing and recasting of the radical Stravinsky-Nijinsky ballet that caused riots and uproar in Paris back in 1913.
Dances from U-M faculty choreographers Amy Chavasse, Jessica Fogel and Sandra Torijano complete the show.
"Part of our mission for the students is to show how modern dance is so protean," says dance faculty member Peter Sparling, who serves as the show's artistic director. "It has the skin of the chameleon, and it can be highly emotional, post-modern cerebral or conceptual. And this program presents that wonderful palette."
In the case of Taylor's "Sacre," the raw, pummeling viscerality of the original ballet, a tale of pagan spring ritual that culminates in the sacrifice of the Chosen Maiden, becomes something entirely other in Taylor's hands. Taylor layers highly stylized movement with black humor to create a delicious double-narrative that is both a Runyonesque detective story and a look at the daily rituals and intrigues of a touring dance company.
The Taylor ballet uses Stravinsky's original piano four-hand score for "Sacre," which will be played live by Associate Professor of Dance Christian Matjias and Ilya Blinov, a DMA student in piano performance at the U-M School of Music, Theatre & Dance.
---
PREVIEW

"(Re)Visionary Dances"

Who: The University Dance Company, University of Michigan School of Music, Theatre & Dance.

What: A program of 4 modern dances, including Paul Taylor's "Le Sacre du Printemps (The Rehearsal)" and 3 faculty works.

When: Feb. 4-7: Thursday, 7:30 p.m.; Friday and Saturday, 8 p.m.; Sunday, 2 p.m.

Where: Power Center for the Performing Arts, 121 Fletcher Street.

How Much: $18 and $24, reserved seating; students, $9, with ID. At the Michigan League Ticket Office, 734-764-2538, and AnnArbor.com event listing.
---
With the assistance of funds from the National Endowment for the Arts for restaging 20th century dance master works, "Sacre" has been set on the U-M dancers by Ruth Andrien, a member of Taylor's company from 1974 to 1983, who danced the role of "The Girl" in the premiere of "Sacre."
Watching the dancers rehearse the ballet, Sparling said "the boot-camp-plus rigor" of the work took him back to his days with the Martha Graham Dance Company. "The rigor and the degree of difficulty are so elevated," he said. "It is real physical work.
"And then there is Paul's black comedy element, his wicked wit. It is wonderful to see the kids picking up on those nuances, the characterizations of the roles. Unlike Martha's work, everything has this flat, comic-book, one-dimensional frame, a sort of Dick Tracy profile."
The faculty works on the program ply different roads.
The concert opens with Chavasse's " Hunger for the Craving for the Longing for the Aching (a biased history of seduction)," made in collaboration with her cast of 17. Using four very different versions of Woody Guthrie's seminal 1940 folk song, "This Land is Your Land," the dance is a Busby Berkeley-like pastiche in homage to things we claim are right and true and ours.
"It's a sly update on Woodstock democratic vistas," said Sparling, as well as "a big billboard opener for the show that sets the time and place as America 2011."
Choreographer Torijano takes a different direction in her "La Luna Nueva" ("The New Moon"). She taps more into the tradition of highly emotive, visceral modern dance, said Sparling about her new work, which envisions overcoming adversity as a process of personal transformation supported by friendship, love and spiritual forces.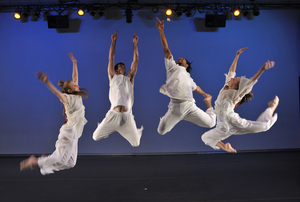 Peter Smith Photography
Fogel works in yet another vein. Her "Out of Thin Air: Lightness," said Sparling, "is part of a long line of Fogel investigations" that explore the play of the mind in three dimensions. This time, she is inspired by theoretical physicists like Nobel laureate Frank Wilczek, who describes space as a "dance of intricate patterns within an effervescent medium."
She draws on literary criticism by Italo Calvino, too, especially his essay "Lightness."
It's up to the audience to decide how text and movement relate to each other. "She draws parallels between choreographic space and what particle physicists are investigating with particle accelerators, said Sparling. "It's like a lecture-demonstration come to life. You don't know whether the bodies are illustrating the texts that are part of the sound score, or whether the texts illustrate what the bodies do."
In any case, the counterpoint is what counts. And that goes equally for the interplay among the works that comprise "(Re)Visionary Dances."
Susan Isaacs Nisbett is a free-lance writer who covers classical music and dance for AnnArbor.com.