Posted on
Thu, Jul 15, 2010 : 5:20 a.m.
Revive + replenish a great new option for a fresh breakfast or lunch
By Julie Halpert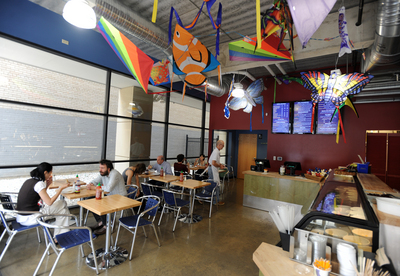 Lon Horwedel | AnnArbor.com
Revive + replenish, which opened in October and is located on East University in the central campus area, is the latest eatery to provide healthy options for dining. Based on my recent visits, the place is an attractive option for students and other local residents looking for delicious, fresh-tasting, quick meal options.
It's located on the main floor of Zaragon Place, a student apartment building, and combines a cafe with a small market. "It's more fresh and honest than it is directly healthy," explains one of the owners, Dick Schubach. His goal, he says, is to produce meal choices with a "vibrant, fresh taste profile," including fruits and vegetables from Frog Holler, a local farm. Everything is made from scratch, says Schubach, who hopes his business will attract not only students, but others who live in the neighborhood as well.
The restaurant is small, though hip and upscale looking, with room enough for just a few industrial-looking tables. Al fresco dining is also available. You order at the counter, where there are some already prepared sandwiches, as well as make-your-own salad options and items made while you wait.
Breakfast and lunch entrees are the specialty. The day begins with "sunrise sandwiches," served all day, prepared on a bagel, flour tortilla or flatbread. These offered an inventive combination of ingredients that provided a nice Southwestern flair. I enjoyed both the scrambled egg panino —Swiss cheese, tomato and avocado on whole wheat flatbread — as well as the scrambled egg quesadilla with cheddar cheese, salsa and avocado. Even the basic toasted bagel with lox and cream cheese was great, served on an extremely fresh bagel, with salmon that wasn't too salty.
You can wash down those sandwiches with a variety of coffee drinks, using coffee from Mighty Good Coffee. The frothy cappuccino was a delight. For a refreshing, cool start to your day, there are several smoothies. The mixed berry was full of fresh fruit. All the smoothies are made with vanilla yogurt, which is obviously healthier, but it also lends a tarter taste.
I particularly enjoyed the range of salads made with more exotic ingredients, including the couscous and bulgur salad, a dense mix of grains with a fruity citrus vinaigrette dressing, made with orange juice and olive oil. I wanted to try the "create your own salad" option, where you choose among different greens, a dozen vegetables, seven cheeses, proteins, nuts, fruits and dressings, on my second visit. But it was two days before July Fourth, and the restaurant was about to shut down for the next three days, so they were out of all the salad options, as well as the rice bowls and several sandwiches.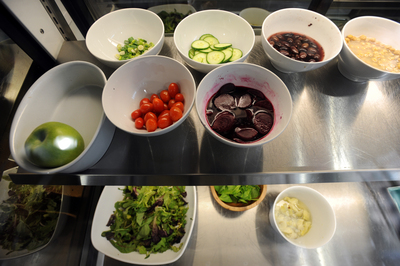 Lon Horwedel | AnnArbor.com
The sandwiches I was able to sample were first-rate, a perfect mix of healthy and hearty, with a great flavor combination. The chicken caesar wrap featured perfectly cooked chicken, along with lettuce and a light topping, wrapped in a soft tortilla. The chicken panini provided an ample portion of chicken with feta, a giant roasted tomato and Greek dressing.
The soft taco had succulent, well-seasoned pieces of flatiron steak, complemented by guacamole, salsa, pickled onions and shredded romaine. Chipotle mayo gave it a spicy kick. Turkey in the smoked turkey club was fresh, served on thick wheat bread that tasted homemade.
Biting into the salami and cappicola with aged provolone, marinated artichoke hearts and pesto, served on a French baguette, my mind drifted off to recall some of the fresh sandwiches I've had at European bistros.
What's conspicuously missing from Revive is the unhealthy element: dessert. Aside from a couple of pre-packaged chocolates, there's no sweet stuff. But that left me with a truly guilt-free dining experience. Revive succeeds in offering a variety of appealing dishes that are prepared nearly as quickly as fast food, but far healthier.
Julie Halpert reviews restaurants for AnnArbor.com.