Posted on
Fri, Oct 12, 2012 : 5:49 a.m.
Rhoda Janzen, bestselling author, will talk of love, faith and cancer at Nicola's
By Jenn McKee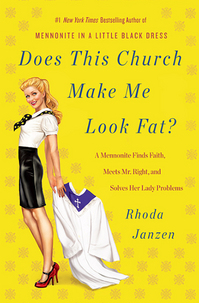 Rhoda Janzen
, author of the bestselling memoir "Mennonite in a Little Black Dress" (who will appear at Nicola's Books Oct. 17), is undoubtedly learned, given that she's a creative writing professor at Hope College.
But when it came time to writing a follow-up memoir, titled "Does This Church Make Me Look Fat? A Mennonite Finds Faith, Meets Mr. Right, and Solves Her Lady Problems," Janzen was glad to not fully understand the high stakes and expectations that would inevitably accompany her second book.
"Because I'm not in the publishing industry, I think I didn't really have a serious grasp on the risks of the sophomore book," Janzen said during a phone interview. "I have a little bit more of that now, but it freed me at the time just to write my book."
It probably also helped that Janzen, at that time, was experiencing so much upheaval in her personal life that she couldn't look too far beyond that.
"Mennonite" told the story of her divorce from a man who turned out to be gay; the car accident that seriously injured her; and how she—a 43-year-old lapsed Mennonite—had to move back in with her parents while recovering.
"Church," meanwhile, details Janzen's courtship with Mitch, a bald, formerly alcoholic Pentecostal with large biceps; her battle with breast cancer; and how she unexpectedly found her own path back to God and religious faith.
This wasn't initially the second book that Janzen had envisioned. "I was imagining it would just be a funny book, a kind of counterstory and a romance, and I thought it would be fun and fresh," said Janzen. "And I didn't expect the book to take on the depth that it did."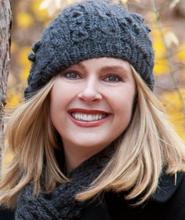 But life interrupted, of course, and Janzen received her diagnosis at the same time that her first book was released—8 weeks into her relationship with Mitch.
For this reason, the significant change of fortunes in Janzen's professional life—that is, having a book on the national bestseller list—plays only a small role in "Church" (in a chapter about tithing).
"My cancer was so severe, I actually couldn't work, and it took me out of the campus milieu, where I usually spend my time, and where so many of my interests have previously been directed," said Janzen. " … And as I began exploring faith issues, and as I began falling in love with a man from a very different environment, I began rethinking some of the choices I had made as an intellectual, and I came to the conclusion that I had overinvested in the life of the mind. And I didn't want to pull away from the life of the mind. … But I think it's also possible to take it too far and to pursue it for the wrong reasons. And I did that. And so I began rethinking my motivations in pursuing knowledge."
PREVIEW
Rhoda Janzen book signing
What: Janzen - bestselling author of "Mennonite in a Little Black Dress - will discuss and sign copies her newest memoir, "Does This Church Make Me Look Fat? A Mennonite Finds Faith, Meets Mr. Rigt, and Solves Her Lady Problems."
Where: Nicola's Books, in the Westgate Shopping Center, 2513 Jackson Ave. in Ann Arbor.
When: Wednesday, October 17 at 7 p.m.
How much: Free. 734-662-0600 or http://www.nicolasbooks.com.
The book immediately throws readers into the maelstrom of Janzen's romantic life—seeming to assume that many readers will already feel they know her, thanks to "Mennonite"—but the cheeky title took some time to nail down.
"(My editorial team and I) had reached in the point late in the process where we still didn't have a good title," said Janzen."And so one night, a whole bunch of us were brainstorming on the computer late at night, back and forth, and we were in a silly mood and started just throwing out random titles. And I threw that one out, and I had intended it as a joke, … but it stuck."
Of course, writing about real people—often those we love—can be a tricky business. For "Mennonite," Janzen followed the advice of her editor and had two members of her family read the manuscript, but "there was still some hurt … in my extended family." So this time around, Janzen was even more cautious, letting more people involved read the work.
But she tried to let go of any anxieties regarding this while writing the initial draft of "Church."
"If you give in to that as you write, you will not write," said Janzen. "It will stymie you and paralyze you, because there are so many fears you can imagine. 'Is this right? Is this appropriate?' So at least in the first draft, when you're working with the base, getting the manuscript out, you have to shut that voice down and just write write write. And then, if it's inappropriate or unethical, later, you can go over it with a different eye, an analytical eye, and do some editing where it's appropriate."
Jenn McKee is the entertainment digital journalist for AnnArbor.com. Reach her at jennmckee@annarbor.com or 734-623-2546, and follow her on Twitter @jennmckee.