Posted on
Fri, Aug 23, 2013 : 10:33 a.m.
Rickie Lee Jones reinterprets rock classics at intimate Ark show Monday night
By Roger LeLievre
Here's a great chance to catch a big name in a small venue. Rickie Lee Jones comes to The Ark Monday night. (Tickets for the show are sold out.)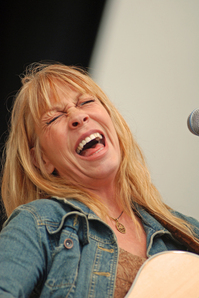 photo by Scott Cordaro
Named by VH1 as one of the 30 greatest women in rock (we'd put her in an even smaller group), Rickie Lee Jones has been hard to classify ever since she came on the scene with the classic "Chuck E.'s in Love" in 1979.
She's performed straight jazz, blues, synth pop, new wave rock, pop covers, trip-hop, gospel, ambitious singer-songwriter music, and more, putting her spin on each style. Each new round of music-making activity by Jones is different. But a few things remain the same: she's at her best in an intimate space - like The Ark - and her live concerts are usually unforgettable experiences.
Jones' latest album, "The Devil You Know," features reinterpretations of classic tracks such as "St. James Infirmary," Sympathy for the Devil" and "The Weight."
Tickets aren't as inexpensive as most Ark shows, but for this one, they're probably worth the price.
Rickie Lee Jones plays at The Ark, 316 S. Main St., at 8 p.m. Monday, Aug. 26. Tickets are $75-$45. (Tickets were sold out as of Friday, August 23.) Details at www.theark.org or 734-761-1800