concert preview
True musical original Rickie Lee Jones playing The Ark this week
Posted on Mon, Jun 4, 2012 : 5:05 a.m.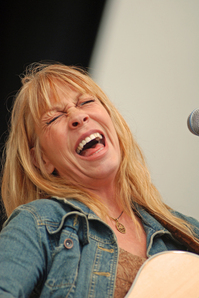 photo by Scott Cordaro

As a singer-songwriter and recording artist, Rickie Lee Jones has always resisted being easily categorized. From the beginning, with her 1979 debut, she's been an irreverent, genre-bending artist who, on the one hand, was mostly influenced by jazz and Beat poetry—but also had an R&B / Motown streak, and showed a fondness for folk-rock. And she's often displayed a punk edginess. In fact, many who've been to her live shows have witnessed the prickly side of her personality.

I've seen her sharply scold audience members for talking while she was singing. I've also seen her abruptly cut the band off in mid-song because the keyboard didn't sound right to her—and, then, while the sound technicians tinkered with it, seemingly interminably, she broke into an a capella medley while doing a funky impromptu dance.

Jones, who performs at The Ark on Saturday, last released an album of new songs in 2009. Titled "Balm in Gilead," it was a dextrous mix of R&B, acoustic jazz and other rootsy sounds. The title was spawned by a passage from the book of Jeremiah in the Old Testament, which was then adapted for an African-American gospel song that included the line, "there is balm in Gilead that makes the wounded whole."

The disc included the R&B-fueled "Wild Girl," about her daughter, and "The Gospel of Carlos, Norman and Smith," which pondered racial injustice in America and "The Moon is Made of Gold," a cool-jazz piece that was written by her father in the mid-1950s. Other standout tracks were the gritty "Bonfires," the atmospheric "His Jeweled Floor," and the raucous "Blue Ghazel."

Last year, Jones released a live DVD, "Rickie Lee Jones Live in Stockholm," which was a taped in 2010. In terms of her set list, she covered the waterfront. She reached back and gleaned memorable songs from her self-titled 1979 debut and its equally-acclaimed 1981 follow-up, "Pirates,"—the two albums that quickly established her rep and made her famous—including "Chuck E's in Love," "Weasel and the White Boys Cool," "Danny's All-Star Joint," "We Belong Together" and "Living It Up." But she also drew from her middle period as well as rendering a few songs from "Balm in Gilead."
PREVIEW
Rickie Lee Jones
Who: Veteran singer-songwriter / recording artist who, from the beginning of her career n 1979, has resisted being easily categorized.
What: Heady, hip mix of jazz, R&B, Beat poetry, Motown and folk-rock.
Where: The Ark, 316 S. Main St., Ann Arbor.
When: Saturday, 8 p.m.
How much: $$45, $75 (gold circle). Tickets available from The Ark box office (with no service charge); Michigan Union Ticket Office, 530 S. State St; Herb David Guitar Studio, 302 E. Liberty St. or online from MUTO.
In an interview with The Guardian, the British newspaper, Jones reflected back on becoming so famous, so fast, and how that affected perceptions of her and her music - both by fans and by the industry.
"I wish I would have known (then) that what I have couldn't be taken away," said Jones. "I've watched the concept of me change in people's eyes and that's been strange—you're totally in one year and totally out the next. So I wish that when I was a kid I'd known and understood that the stage is mine and it can't be taken away from me, that what I do is what I do and it's always there for me."
That '79 debut disc really did blast her into the mass consciousness. She made a controversial appearance on "Saturday Night Live" that year—her national TV debut—and got five Grammy nominations for the album, winning one for Best New Artist. Meanwhile, "Chuck E's in Love" became a ubiquitous radio hit, she landed on the cover of Rolling Stone, and the album went multi-platinum.
Then, "Pirates" further secured her place in the hipster-pop pantheon, drawing critical hosannas all around, including a 5-star review from Rolling Stone, which again put her on the cover.
When she launched the tour to support "Pirates," she began indulging too heavily.
"At the time I had an apartment in New Orleans, so I was thinking that I was bringing my New Orleans party onstage," she told Vanity Fair. "I thought, Janis Joplin drank onstage, why can't I?....I was probably like Amy Winehouse … too bawdy, too raucous. The way people saw me, the singer-songwriter, the expectations of behavior—I wanted to defy that right away….I wanted to open it up."
Jones got sober, though, and continued to defy expectations and blur genre distinctions, like when she recorded the 1986 "Pop Pop" album—an Argentinian-inflected collection of jazz and blues standards—and then recorded duets with the disparate likes of Rob Wasserman and Dr. John: Jones cut a new version of the jazz/pop standard "Autumn Leaves" with Wasserman, earning a Grammy nomination for Best Jazz Vocal. Then, her duet with Dr. John on the much-covered "Makin' Whoopee" won each of them a Grammy for Best Jazz Performance.
Another surprise was her 1997 release, "Ghostyhead," which shimmered with electronic ambience and slinked to a trip-hop groove. The year 2000 saw another covers album, "It's Like This."
Given her assertiveness and her outspoken nature, it's not surprising to hear that Jones has a passion for social issues—but she doesn't consider herself to be a political person. "When they do terrible things it's a sin to not speak up," she told the Guardian. "I think we are dying in America, I think our democracy is over. It's a corporation now - the oil people run the world. I would say there was no chance, but then, suddenly, the wall fell down in East Berlin and communism folded in Russia, so something could happen here. But I'm not going to be able to initiate the revolution! But I'd start with women."