Posted on
Sun, Dec 30, 2012 : 9:42 a.m.
Ring in the New Year and learn how to make fancy snowflakes this week
By Ann Dwyer
FOOD
Enjoy a "Yellow Door New Year's Eve Breakfast for Faith In Action" on Monday at the Chelsea Community Fairgrounds. 9 a.m. to noon. Chef Paul Cousins (Cousins Heritage Inn) will be preparing one of his signature dishes for the event. All ingredients on the menu are purchased from local providers. The menu is being finalized and will feature three entree choices, coffee and juice. Guests are asked to make a donation of $15 (or more) at the door. 20501 Old US-12 Hwy. (Old US12 at Old Manchester Road), Chelsea. 734-475-1270.
NEW YEAR'S
Looking for a fun, family-friendly event? Find it at the "SRSLY New Year's Eve Party" at Beach Middle School on Monday. 4-8 p.m. There will be team games and competitions (eating contests, relay races, card games and more), face painting, video games on classroom Smart Boards, cookie-decorating, live music, swimming, basketball, volleyball, indoor soccer and a chili cook-off. The event is free and open to the public. There will be food for sale. 445 Mayer Drive, Chelsea. 734-433-2202.
NEW YEAR'S
Party with Jeff Daniels at the "Purple Rose Theater New Year's Eve Party," starting at the Chelsea Comfort Inn & Village Conference Center and ending at the Purple Rose Theater. 5 p.m.-midnight. Enjoy Daniels' "Unplugged" show along with other entertainment, food and a sneak preview of a new comedy by Daniels. Tickets are $250 each. Make your reservations today by calling 734-433-7782 x14 or x15; or email ReachUs@purplerosetheatre.org. The Comfort Inn & Village Conference Center is at 1645 Commerce Park Dr., Chelsea. 734-433-8000. Transportation will be provided to the theater (optional).
Get plenty more New Year's Eve options here.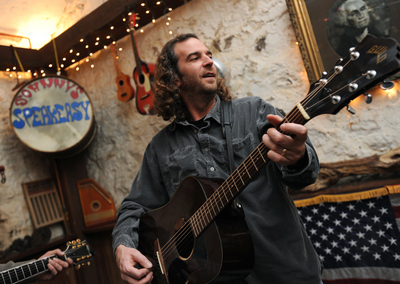 AnnArbor.com file photo
MUSIC
The new year means it's time again for the "Annual Tribute to Hank Williams and Townes Van Zandt" at the Old Town Tavern on Tuesday. 6 p.m. (doors open at 5). Singer-songwriter Chris Buhalis (with special guests Dave Keeney and Jason Dennie) will offer his 15th annual salute to the late country-folk singer-songwriters Townes Van Zandt and Hank Williams Sr.—both of whom died on New Year's Day. No cover. 122 W. Liberty St., Ann Arbor. 734-662-9291.
CRAFT
Take a "Snowflake Making Workshop" with Doctor Snowflake at the Gifts of Art Gallery at U-M Hospitals on Thursday. In this annual workshop, snowflake master Dr. Thomas L. Clark shares his paper cutting techniques, and he helps participants try their hands at some seasonal designs. If attending the workshop, please bring scissors. If planning to bring a group, please call Gifts of Art at 734-936-ARTS (2787), as space is limited. Free. 1500 E. Medical Center Dr., Taubman Health Center North Lobby, Floor 1. Ann Arbor. 734-936-4000.