Posted on
Wed, May 1, 2013 : 8:14 a.m.
River Gallery showcasing imaginative landscapes of U-M's Endi Poskovic
By John Carlos Cantu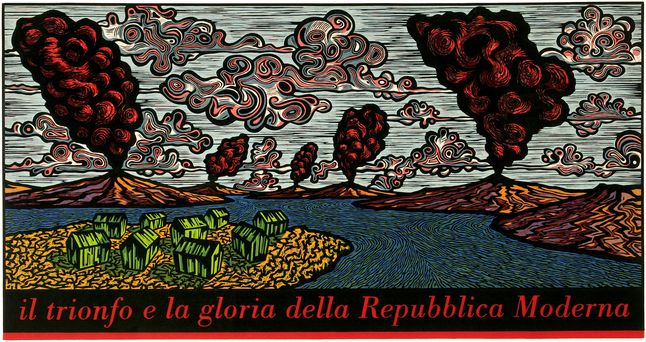 The landscapes of Endi Poskovic's mind are on display at Chelsea's
River Gallery
.
His "big triumph|majestic land," a compilation of his 2003-2013 "La Souffrance et L'Aventure" and "Majestic Landscapes" series with additional lithographs drawn from his "Crossing" series of the same period, feature imaginative sceneries with a hermetic flamboyance.
As Poskovic says in his River Gallery artist's statement, "Through the representation of familiar imagery my work proposes a range of eventualities, from hybridized narratives to unexpected scenarios, invoking a sense of place and time, and exploring ideas about displacement, memory and reconciliation.
"A critical element in many of my relief prints is the placement of invented phrases and words that are cut in wood, placed and printed below the images. Created in actual and/or faux Romance and Germanic languages, the captions contribute to interpretations that may simultaneously appear to be real and fictitious, rational and absurd. The intersection of the image and the written word in my prints reinforces the act of reading the two in a single context as a source of unlimited interpretive possibilities."
And unlimited possibilities, these prints most certainly are. For this is one of those subtly inventive exhibits whose meaning might be confounding otherwise. As it is, these imaginatively crafted prints are intriguing solely from their appearance — with or without "actual and/or faux" meaning because Poskovic's personal passages also seem almost never-ending.
As his biography tells us, born in 1969 at Sarajevo, Bosnia and Herzegovina, and raised in Yugoslavia in the 1970s; Poskovic moved to Norway, and then relocated to America to make art. These transitions account for what the gallery describes as his "multifaceted perspective of home, country, boundaries, nationality, and visions."
Through this period, Poskovic's exhibited at major international exhibitions including the Shanghai International Biennial, China; Taichung International Biennial, Taiwan; Krakow International Triennial, Poland; la Biennale Internationale d'Estampe Contemporaine de Trois-Rivieres, Canada; Egyptian International Triennial; Deutsche Internationale Triennale, Frechen, Germany; Tallinn International Triennial, Estonia; Xylon International Triennale, France; Varna Biennale, Bulgaria; Warsaw Impact Biennale, Poland; and Ljubljana International Biennale, Slovenia.
Add American surveys held at the Philadelphia Print Center; Plains Art Museum in Fargo, ND; Des Moines Art Center; Bemis Center for Contemporary Art in Omaha — as well as Michigan's own Interlochen Arts Academy Dow Center for the Arts — and his movement seems perpetual.
All of which makes Ann Arbor now a resting spot for this University of Michigan professor at the Penny W. Stamps School of Art and Design and recipient of grants and fellowships ranging from the John Simon Guggenheim Memorial Foundation and John D. Rockefeller Foundation to the Pollock-Krasner Foundation and Flemish Ministry of Culture-Frans Masereel Centrum. We're just lucky Poskovic's slowed down enough to exhibit at the spacious River Galley.
For the way these works are described by the gallery is equally restless.
"Poskovic's 'La Souffrance et L'Aventure' Series and 'Majestic Landscapes Series,'" says the River Gallery, "are the results of intersecting cultural signifiers, both real and imaginative. Provoking the viewer to attempt a construction of meaning through the reading of the text as well as the images themselves. These landscapes resist the possibility for logical classification and result in infinite possibilities of interpretations."
Likewise, his "Crossing" series "underscores a personal tale of discovery, "In 2010, (Poskovic) returned for the first time to his ancestral birthplace in Southeastern Herzegovina, experiencing tiny villages untouched by time juxtaposed with devastating evidence of violence in the landscape. In this project, Poskovic indirectly (examines) recent dramatic demographic shifts in his motherland through additive and subtractive stone lithography printing to depict the war-ravaged topography."
The results of these ever-moving efforts therefore are an extraordinary collection of prints whose flights of imagination are as fantastic as the results themselves. Take Poskovic's heroic-scaled woodblock "A View From the Black Mountain in Green and Yellow Mist with Blue (for Joseph Albers)" as a representative instance.
This magnificent woodblock print has been handcrafted in 14 colors from 4 blocks on Kozo Okawara washi 43 x 73 inch sheets where fantasy mingles with an abstracted representational landscape to create a realm that resides in Poskovic's imagination. Most certainly, the first hint is his cutline at the base of the print: "il trionfo e la gloria della Repubblica Monderna" — or "the glorious triumph of the Modern Republic."
Now whose "modern republic" is left open-ended, but we do know the German-born Albers left his homeland for the United States after the Berlin educational institution he with whom he was affiliated (the famed Weimar Republic-era Bauhaus) was shuttered by Nazi pressure in 1933. On emigrating to the U.S., he joined the faculty of the equally now-famous Black Mountain College in North Carolina. He ended up chairing the paint program whose alumni eventually included Robert Rauschenberg, Cy Twombly, and Susan Weil.
Yet for Poskovic's purposes, everything written above is mere history. What's not debatable is the landscape he produces in his composition: A hyper-charged peninsula whose four volcanoes spew ash from varied perspectives abetted by multi-colored striated cloudbanks and an equally striated blue and green river flowing into the print's recession.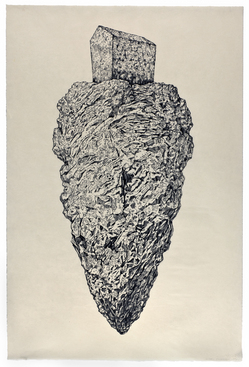 By contrast, his stone lithograph "Zachlumia (For Dervis)" film still VI from his "Crossing" series is vaguely reminiscent of Rene Magritte's 1959 "The Castle of the Pyrenees." Yet though Poskovic's hand, this pregnant image is reinterpreted to his use.
Zachlumia — a medieval principality located in modern-day Herzegovina — is depicted as a stone edifice set upon a floating rock with deep root. And no greater strength of resilience could seemingly be depicted as Poskovic etches the enduring strength of his birthright.
If Magritte is depicting enigma, Poskovic's depicting nothing less than sheer endurance. For it is upon such symbols such national strength is born. And Poskovic wields his art like an unmistakable marker for those who can read his meaning.
"Endi Poskovic: big triumph|majestic land" will continue through May 11 at the River Gallery, 120 S. Main St., Chelsea. Gallery hours are 11 a.m. to 5 p.m., Wednesday-Saturday, and noon to 4 p.m., Sunday. For information, call 734-433-0826.