Posted on
Sun, Jun 23, 2013 : 5:55 a.m.
River Gallery showcasing work of Joan Painter Jones, Michael Thoresen
By John Carlos Cantu
Matching two masters in their prime isn't always an easy thing to do because the mediums, manners, and styles can be as crossed as they can be complementary. But Chelsea's River Gallery's "Joan Painter Jones-Michael Thoresen: 2D3D" catches two local talents right where we want them.
Milan's Jones and Ann Arbor's Thoresen might initially seem mismatched. Yet both artists have mounted local two-artist displays in this last decade with great results. And as such, when the River Gallery suggested the possibility of this particular display, both artists found it an opportunity hard to resist.
"Creative comrades and fellow artists," reads the River Gallery's gallery statement, "Thoresen and Jones exclaimed in unison 'we always wanted to do this!' when the River Gallery invited them to share their new work and exhibit as the headliners for summer 2013 season."
It's an uncommonly appropriate opportunity for the duo, since Thoresen "is a musician as well as a painter" thereby fitting Chelsea's current Sights and Sounds Thursday Night Festival.
"Always a collaborator," continues the River Gallery statement, Thoresen "banded with fellow musicians, painters and writers from the Midwest staging events in Kalamazoo, Chicago, New York and Boston. Exploring the dynamic between art and music (he) did artwork for Whittle Communications, Musician Magazine, and designed the CD cover for avant-garde Amsterdam composer, Jon Rose." Jones, on the other hand, has a remarkable artistic malleability that's made her one of the key artists in our region through this last couple of decades. A winner of numerous awards, her last local score was 2011's Ann Arbor Art Center "Annual" when she won first prize for her wood, wheels, and metal "Changing Chair" assemblage.
All this said; this exhibit is the first time we've had a chance to see a representative sample of Thoresen's work since his July 2006 River Gallery "Improvisations" pairing with Brian Ferriby, the Faculty Lead for Art Foundations at Novi's Art Institute of Michigan. And the last time Jones had a similar sampling was with her July 2010 Plymouth Township Arts & Ideas Gallery "Inner Worlds and Animals" display when she joined Ann Arborite Charles Aimone.
With more than 20 artworks each in "2D3D," Thoresen and Jones have plenty of room to expand in this Chelsea gallery. Easily one of the most handsome showcases in Washtenaw County, the River Gallery is a superb spot for this sort of oversized art.
As I made mention in Thoresen's earlier "Improvisations" exhibit, his art reflects a sophisticated post-painterly expression that bears traces of second generation abstract expression. And to this degree, Thoresen is still working within his comfort zone: Repetitive abstracted stylizing that's placed on the foreground of his colorfield painting.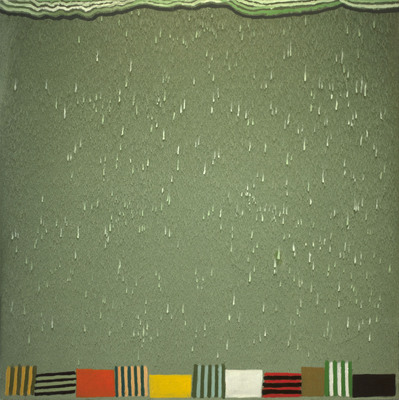 There is, however, a subtle evolution in his work that indicates Thoresen is actively thinking through his artistry. As he says in his artist's statement to the exhibit, "the new paintings reflect a renewed vigor in painting itself.
"I work in oil because I love the texture and the smell," says Thoresen. "I do a lot of thinking first. Then I soak the canvas and sketch. Things happen spontaneously. I like squares as they do not suggest landscape or portrait. It gives me freedom. There is the natural world and the spiritual world in my work."
All these elements are there to be found in his "Accidental Rain." For this painting continues his interest in colorfield exploration with its vegetative tinged background bolstering the composition while his signature geometric squares draping the bottom of the work lend a foreground patterned geometric abstraction whose arrangement interacts with his field even as it breaks up the painting's backdrop. Indeed, there's even an introduction of a conceptual curtain at the top of the painting representing a cloud play that's as much theatrical as it is representational.
Each of these elements has as much a conceptual import as they do an abstracted dimension. Yet where in the past Thoresen might have reverted to his successively overlaid vertical drips, he's added rain drops. And this simple transition (repeated in other paintings in the exhibit) energize the composition in a way that abstraction can never accomplish.
It's quite stunning how much a single — in fact, simple — element can so invigorate a painting. Granted the devising of the drops themselves is uniform. There's not much variation outside the careful articulation Thoresen pays in his attention to detail. Yet the very emotional quality we tend to bring to rain gives the work an expression that makes it a transition from his earlier more formally rigorous artwork.
This transition in Thoresen's art works well with Joan Painter Jones' rough and ready assemblage. Certainly one of our region's most intriguing talents, Jones' neo-Dada sculpture—wall-mounted, framed, or free-standing—is, as I've written in the past, precisely structured.
As I've mentioned, Jones is not content with merely wielding her materials; she intends to bend them to her will. And there's plenty of this sort of energy in her contributions to "2D3D." For as Jones tells us in her artist's statement to the exhibit; she revels in this near anarchistic strength.
"My work," Jones says, "evolves from the jumble of materials I've picked up from roadsides; parts of things others no longer want or have discarded and things friends haven given to me. I'm captivated by old scraps of things, old wood with peeling paint, rusty metal, broken things that seem to have had a life and memories in there somewhere.
"Usually my works just evolve, grow, until they're finished," Jones continues. "Then I get a feeling of what the work suggests to me. My intuitive way of working makes the work personal, and it reveals my passion of putting these things together as well."
It's difficult to point at one Jones assemblage as being any more masterful than any other — it's a concession to the uniform expertise of her aesthetic — but "Faded Memories" finds her working well within the expansive range her artistry.
This marvelous masterwork features an array of elements whose combination might seem unwieldy in any other context. Wall-mounted, the work has three architectural stories crafted from photographs, freehand sketching, wood, fabric, floral design, and rusty nails where each found medium incrementally builds a narrative out of its many parts.
"Faded Memories," like many complex structures, is a makeshift. It merely took an artist of Jones' talent to find commonalities out of what would otherwise be no more than found scraps patched together. Yet this is, of course, what memories are: Stitched reminiscences whose unity depends on our time and place.
Jones' masterwork is therefore exactly what its title says. For it's the very nature of found elements to carry, as she infer in her statement, a past. And once a past — then maybe also memories. Jones' extraordinary gift lies in bringing artful reason out of the disparate remainders she's rescues from modest waysides.
"Joan Painter Jones-Michael Thoresen: 2D3D" will continue through June 29 at the River Gallery, 120 S. Main St., Chelsea. Gallery hours are 11 a.m. to 5 p.m., Tuesday-Friday, and 11 a.m. to 8 p.m., Saturday. For information, call 734-433-0826.