Posted on
Tue, Mar 16, 2010 : 5:06 a.m.
"Will Build to Suit" exhibit explores assemblage at Riverside Art Center
By John Carlos Cantu
Common sense tells us artists tend to start each project with new materials. But as the Ypsilanti Riverside Arts Center Gallery "Will Build to Suit" agreeably shows us, common sense has thankfully never much applied to the making of modern art.
This exhibit features 58 stellar examples of assemblage by 8 local mixed-media specialists in an expansive format that allows each artwork to breathe.
The gallery's exhibition statement tells us everything we need to know of the motivation behind this show, straddling the borders of sculpture, installation, painting and collage: "Artists are problem solvers. They see questions that others are not aware of and find their own personal answers to those questions. Referencing all of their life experiences, the places they've been, the art they've seen, their family and friends, artists recombine what they know to form a visual representation of what they feel.
"The artists in this exhibit focus on combining and recombining many bits and pieces of the objects around them: a newel post from the repair of a stairway; a coffee pot that no longer works; a tangle of copper wire, buttons and beads from clothes no longer wearable; the intestines of an old clock, or a twig from the oak tree out back."
"These 8 artists see the problem of how to give new life to the old and cast-off, and (they) find a way to find their personal answer. They are gathered here to show us the possibilities that exist by populating their private worlds with objects seeded by the mundane and nourished by discards of our lives."
Essentially, what each artist does in "Will Build to Suit" is retrofit his or her materials. And it's this urge to start each project anew with decidedly old materials that makes the work in this display so consistently inventive.
Assemblage is one of those offbeat 20th century creativities that have transformed the nature of art. It is sculpture through the guise of riffraff.
It therefore looks like it might be easy to produce —Â but it's not. The hard-hitting duo of Pablo Picasso and Marcel Duchamp pioneered this offhanded creativity in the first half of the last century; Picasso could visualize the art in any commonplace component while Duchamp supplied the crucial ingredient of wit. Bloodlines don't get much better than this.
The Ann Arbor artists on display in "Will Build to Suit" are Barbara Melnik Carson, Karen Gallup, Alvey Jones, Joan Painter Jones, Julie Renfro and Mike Sivak; the Ypsilanti artists are Paula Doe and Cre Fuller. This lineup alone is a major tipoff to savvy local gallery browsers, as each name has been among the most intrepid of Southeast Michigan artists.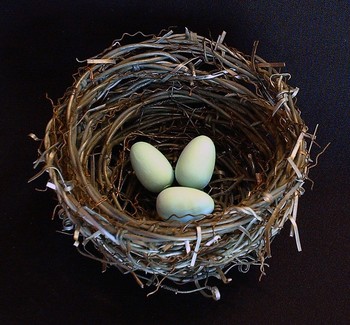 Image courtesy Riverside Arts Center
Paula Doe's diminutive "Nest" — made of barbed wire, found objects, wood and acrylic — is a primer in the art form. A real bird's nest found stray in the world might spark a momentary curiosity. But crafted as an art object, the nest illustrates nature's fragility and highlights the irony of trompe-l'oeil. Taken either way, Doe's "Nest" is environmentalism in dexterous disguise.
On the other hand, there's no disguising Mike Sivak's magnificent "Viaticum" installation. A life-sized assemblage based on the Hindu god Shiva, "Viaticum" (Latin for "provisions for a journey") consists of a multi-limbed, dancing mannequin supplemented with epoxy, wire, wood, metal, glass, acrylics and plastic. It's both playful and reverential.
Barbara Melnik Carson's porcelain, driftwood and wire "Patriot" is another kind of reverence altogether. Like Cre Fuller's metal sculpture "Robot Lamp" series and Karen Gallup's wire-haired "Hot Lips," Carson's "Patriot" is a composite of found objects pulled together from disparate pieces. "Hot Lips" and "Robot Lamp" are as good-natured as "Patriot" is contemplative; and all 3 artworks reflect the ability of assemblage artists to create character through wildly diverse resources.
Julie Renfro's "All is well" and Alvey Jones' "Bower Bird" bring a collagist's sensibility to their assemblage. Their work is also inventive, but their emphasis is on the precise placement of their materials to create mood. Renfro creates a massive build-up of sundry elements — sort of an endlessly fascinating adult "I Spy" puzzle — while Jones crafts images out of parts that clearly should not belong together, yet somehow do.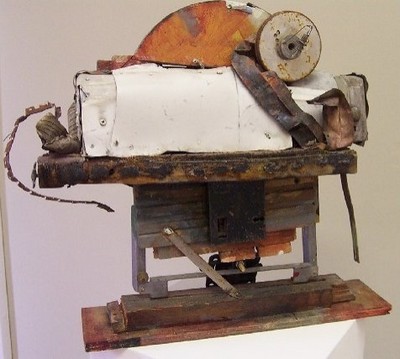 Image courtesy of the Riverside Arts Center
Finally, word must be made of one of Ann Arbor's most remarkable contemporary talents in "Build to Suit." Joan Painter Jones has made a career out of slugging it out with her materials, and "Crash and Burn" is a marvelous example of her rugged abstract assemblage. Jones crafts a symphony of miscellany that hangs together solely through her determined imagination. Let's just say Jones intently builds to suit — one way or another.
John Carlos Cantú is a free-lance writer who reviews art for AnnArbor.com.
"Will Build to Suit" continues through March 27 at the Riverside Arts Center Gallery, 76 North Huron Street, Ypsilanti. Gallery hours are 3-9 p.m. Thursday-Saturday; and 1:30-4 p.m. Sunday. For information, call 734-480-ARTS.