art review
Riverside Arts Center showcasing impressive career of local artist Karen Gallup
Posted on Sat, Jun 16, 2012 : 7:08 p.m.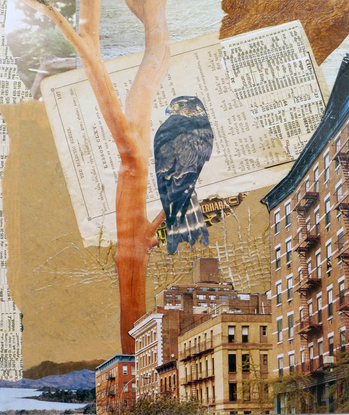 Ypsilanti's Riverside Arts Center Gallery isn't kidding about the title of its "Karen Gallup: Retrospective," exhibit.

Any display running in the range of 140 artworks—spanning collage, mixed media, assemblage, and jewelry—is certainly retrospective enough to fill one of the more handsome and expansive galleries in our vicinity.

At the absolute least, "Karen Gallup: Retrospective" leaves us the distinct impression that this local artist has been keeping herself quite busy creating superior art throughout her near half-century career.

As the Riverside Art Center's gallery statement says by way of biography, "Gallup has been an educator, a metalsmith, and is now a studio artist focusing on collage and found object sculpture.

"Gallup has a Bachelor's of Fine Arts degree from Michigan State University and taught junior high art for two years before going to Cranbrook Academy of Art for a MFA in Metalsmithing and Design. Other teachings include Art Education at Delta College; Professor of Jewelry and Metalsmithing at the College for Creative Studies; and adjunct professor at Eastern Michigan in Jewelry and Metalsmithing."

The beauty of this retrospective is that the Riverside Art Center Gallery is just spacious enough to allow all these artforms plenty of room to breathe. The sheer expanse of Gallup's work—not discounting that at least half these artworks are three-dimensional, thereby requiring significant additional space—makes this display a kind of unexpected artful funhouse.

There's a distinctly idiosyncratic personal element to Gallup's work that runs from artwork to artwork. And this fact doesn't take away from the expertise she brings to her artistry—because she's a superb technical talent. Rather, Gallup's art has a wry humor (sometimes understated, sometimes not) that's reflected in virtually every object at the Riverside Art Center.

It's therefore quite telling that Gallup stresses the artisan element of her art.

"As I developed as an artist," says Gallup, "my curiosity led me to explore a wide range of media including printmaking, watercolor, acrylic, blacksmithing, basket making, paper making, wood working, plastics, found object sculpture, mixed media and collage. These explorations have provided me with a variety of useful tools and skills to apply to current and future work."

She adds, "For the past several years, I have been creating collages and mixed media artwork. I love working with my collection of found objects, discovering relationships for incongruent materials and images.

"For me, the thrill is in the process of creating, of working with my hands and engaging my whole self in the process. Currently, my collage pieces have ranged from improbable realism to pure abstraction all the while working with texture, line and color.

"I work intuitively, beginning each piece without a preconceived plan. The process is both compelling and intense. Each collage takes days to create, undergoing many transformations before completion; the end product bearing little resemblance to the first incarnation."

Gallup's diminutive 10x30" copper and brass wall-mounted "Sticks" shows us her resolute manipulation of materials. The individual "sticks" may not each have a fully conceptualized form. Instead, there's a constraint to the form that gives these well over 100 individual sticks a relative consistency despite their off-kilter arrangement. And this is an aesthetic that's subtly repeated in other seeming dissimilar artworks, like the found-object sculpture "Metamorphosis," where Gallup's wood cobbling lends the sculpture an undeniably quirky symmetry.

The roughly 40 assemblages on display find Gallup at her most whimsical. These works each bear a vigorous modification of found materials fused into expressive sculpture. Indeed, many of these works are fanciful busts whose character is wrested from the most unlikely of sources.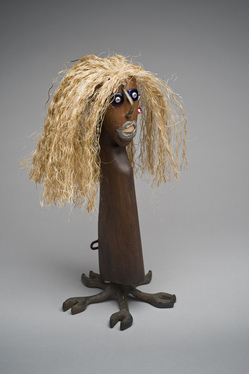 "Sybil" is a prime example, being a rifle stock attached to a spray of unruly twine hair fused at bottom to wrenches for feet with a face made from stray scrap metals. Odd—but it certainly works.
Ultimately, the most single most signature aesthetic of Gallup's work is her collage, where the painstaking process of balancing varied visual elements from diverse sources creates surreal tableaus.
Particularly impressive is a multi-work series of collages whose titles are named for objects set within a private library setting. For example, "Cat and Butterfly in the Library" is a collocation of differing visual elements of wildly varying scales situated in a common setting that is itself melded from a variety of bibliographic sources.
This collage has an internal sensibility that undeniably surreal, yet logically sensible nonetheless. Gallup's humor links these improbable connections by part and section until the work's compositional rigor coerces in a distinctly cockeyed reason. "Cat and Butterfly in the Library"—like the rest of Gallup's retrospective—keenly tickles the imagination even as it challenges the intellect.
"Karen Gallup: Retrospective" will continue through June 30 at the Riverside Arts Center Gallery, 76 N. Huron St., Ypsilanti. Gallery hours are 3-8 p.m. Thursday-Saturday; and 1:30-4 p.m. Sunday. For information, call 734-480-ARTS.