Posted on
Tue, Apr 30, 2013 : 8:43 a.m.
Robert Hurst discusses new album ahead of free concert this week
By Bob Needham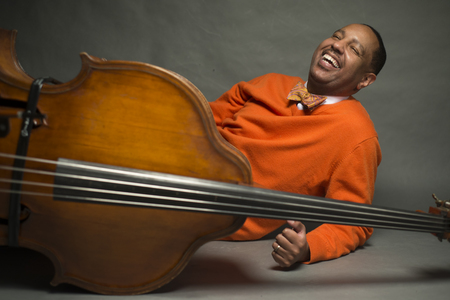 Accomplished jazz musician, composer and educator
Robert Hurst
recently released a new album called "BOB a palindrome."
On this album, the multiple Grammy Award winner and University of Michigan faculty member showcases both bass playing and also his skills as a bandleader, leading an impressive jazz ensemble through 10 original compositions. AllMusic Guide calls the recording "modern jazz at its finest."
The Ann Arbor area gets a rare chance to hear Hurst in his home environment on Friday—and it's free. He will play as part of the WEMU- Sesi Motors 501 Jazz Series at Rush Street, 314 S. Main St. in Ann Arbor, from 5-7 p.m. Friday, May 3. His band for the show is set to include Andrew Bishop, sax; Rick Roe, piano; Nate Winn, drums; and Naval Singh, tabla.
Hurst agreed to answer a few questions via email:
The material on "BOB a palindrome" was originally recorded in 2001. Did it get any release at that time? What led to this release, at this time?
I'm ready for people to hear it now. The record has never been released. I now have the time to dedicate to this project; I certainly didn't want to put it out and have it to just go away. I feel it's an important work; one I'm very proud of.
The heart of the album is the three-part "Middle Passage Suite." I take it the title is a reference to the slave trade? Was there a particular impetus for you to address that subject in music?
The title is in reference to the Slave Trade. I think the magnitude of the American Slave trade gets overlooked or taken for granted. I think its important to let people know the journey that Black Folks have experienced. And, what a truly amazing triumph over adversity we have accomplished during our stay in America.
You mention in the liner notes that Duke Ellington has been an inspiration, especially in regards to tailoring his compositions to the members of his band. Do you approach the writing process any differently when you know exactly who is going to be playing the piece?
I don't necessarily compose for specific projects, outside of film scoring. My writing is more of a continuum. After finishing certain pieces, I think, wow Marcus Belgrave on flugelhorn or Branford on soprano sax—and then I save it for them. I don't really sit down and write for any specific musicians; at some point the music tells you what it needs!
The band on this album includes big names like Branford Marsalis, Marcus Belgrave and Jeff "Tain" Watts. When you're leading a band that includes several people who are themselves bandleaders, is that either more or less of a challenge?
Maybe that's true with some leaders, but that's not the case with these artists. The entire cast of leading musicians including Robert Glasper, Bennie Maupin and Adam Rudolf are like Family to me. They brought fire and far exceeded my expectations. I am truly grateful to them for so brilliantly interpreting my music.
What projects are you working on now, and what comes next?
I have many varied projects in the works within the University of Michigan setting, and those including another Unrehurst Vol. 3, the release of our debut trio band D3 featuring Geri Allen and Karriem Riggins, and of course the phone rings requesting my services and I enjoy that too. These recent unexpected opportunities which lead to my seventh and eighth Grammy noted performances in 2013 with Sir Paul McCartney and Chris Botti. I'm really looking forward to what's ahead!
For more information on Robert Hurst, see his website or AnnArbor.com's profile article.
Bob Needham is director of entertainment content for AnnArbor.com. Reach him at bobneedham@annarbor.com or 734-623-2541, and follow him on Twitter @bobneedham.