Posted on
Thu, Jul 25, 2013 : 10:52 a.m.
Get goosebumps all over again as Michigan Theater screens Sylvester Stallone's classic 'Rocky'
By Roger LeLievre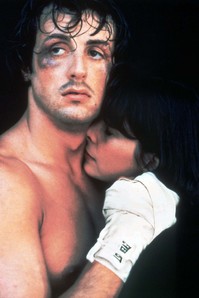 The 1976 Sylvester Stallone movie "Rocky," which has proven itself a winner many times over, screens Sunday and Tuesday as the next entry in the Michigan Theater's Summer Classics film series.
In "Rocky," a small-time boxer gets a rare chance to fight heavy-weight champion Apollo Creed in an insirpational bout in which he strives to go the distance.
At the time, Stallone was an unknown, and the movie was a hard sell to United Artists. Made for under $1 million, "Rocky" managed to resonate with audiences worldwide, earning back 60 times its cost. The film won several Academy Awards, including Best Picture.
Talia Shire is Rocky's girlfriend Adrian, Burgess Meredith is trainer Mickey Goldmill, and Carl Weathers is Apollo Creed. Recently retired Detroit television reporter Diana Lewis also appears as - surprise! - a television reporter.
Shouts of "Yo Adrian" aside, who could forget the iconic image of Stallone's character - with Bill Conti's disco-flavored tune "Gonna Fly Now" as the soundtrack - as he goes through his training regimen, completing his workout with his triumphant run up the steps of the Philadelphia Museum of Art and raising his arms in a victory pose?
Admit it - you still get goosebumps.
"Rocky' screens at the Michigan Theater, 603 E. Liberty St., Sunday, July 28 at 1:30 p.m. and Tuesday, July 30 at 7 p.m. Admission is $10. Details at www.michtheater.org or 734-668-8397. 119 minutes. Rated PG.