Posted on
Thu, Oct 14, 2010 : 5:40 a.m.
Transformation of Lord Fox into Roger Monk's still a work in progress
By Julie Halpert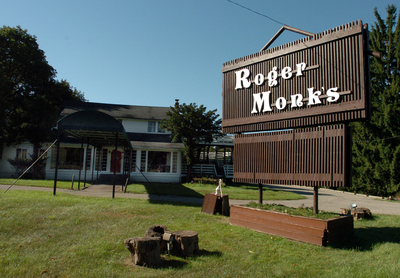 Lon Horwedel | AnnArbor.com
I always enjoyed dining at the original Lord Fox. I looked forward to getting dressed up and heading to this special-occasion destination, which reminded me of a country inn, complete with ornate wallpaper, off-white curtains that decorated windows bordering the grassy country lot, and red linen tablecloths.
I understand, though, that these tight economic times make trips to fancy restaurants more rare, and that there has been a de-formalization of dining overall. Lord Fox decided to respond by reinventing itself into a more modest, casual restaurant. So it stripped off the wallpaper, leaving the paneling. The fancy tablecloths and grand chairs are gone, replaced by basic linoleum tables and hard chairs like you'd find in a boat house. The look is casual ski lodge, though there are still the portraits of riders on the hunt. A large bar in the middle is surrounded by hardwood floors, along with basic burgundy carpet in the dining area. On August 26, the restaurant opened under a new moniker: Roger Monk's.
The problem is that Roger Monk's is trying to hold onto some of its more gourmet offerings, like Amish duckling and beef tenderloin, while providing offerings you would expect at a casual hangout. It's tricky to do both well, and the restaurant hasn't entirely mastered this yet.
Even though there are some fancier entrée, they're all reasonably priced, with many under $14.
The best part of our meal was the rolls that came piping hot from the oven. We were underwhelmed by the Gorgonzola cheesecake, which is presented as both a dessert and appetizer, but didn't fit neatly into either category — too sweet for a pre-dinner munch, but lacking the taste and consistency for a dessert. Duck drumettes were a clever way to bring a new twist to the traditional chicken drumstick. They were a bit greasy but tasty, and I liked the Asian BBQ sauce served with them.
RESTAURANT REVIEW
Roger Monk's
5400 Plymouth Road, Ann Arbor
734-662-1647
Roger Monk's in AnnArbor.com restaurants guide

Kitchen hours: Monday-Thursday, 3-10 p.m.; Saturday, noon-10 p.m.; Sunday, noon-9 p.m..
Plastic: Mastercard, Visa, American Express, Discover.
Liquor: Yes.
Prices: Moderate. Burgers are in the $9 range; the most expensive entrée is $18 and includes a starch and vegetable.
Value: Good.
Noise level: Quiet.
Wheelchair access: It's limited to a ramp on the east side of the restaurant. The restrooms aren't wheelchair accessible.
Scallops were quite good, thick and substantial, cooked perfectly with a wonderful Riesling butter sauce. And the Caesar salad was solid, with abundant slivers of fresh Parmesan and a tangy dressing.
But as for main courses we tried on two recent visits, there was only one real standout: the eggplant Parmesan, in which a large eggplant was placed on a bed of pasta, with a light tomato sauce. This was terrific.
While the salmon was fresh, the roasted red pepper puree served with it lacked flavor. I ordered my hamburger — with an appetizing Gorgonzola and shallot marmalade — medium. Though it was slightly overcooked, it tasted fine, served on a fresh, soft bun.
The other shortcomings were significant. The lobster sliders, lobster on mini rolls, were burnt, and the sauce was downright bitter. My son's pork chop was bathed in a delicious black currant demi-glace, which unfortunately couldn't redeem the dry, overcooked piece of meat. Our entrees came with rice pilaf that was undercooked on both our visits. Fries were well seasoned but limp and soggy.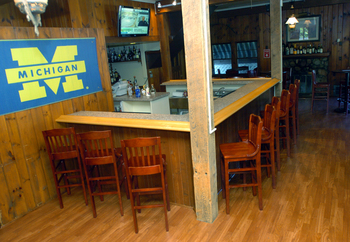 Lon Horwedel | AnnArbor.com
For dessert, I sampled the chocolate pâté, basically plain chocolate; I couldn't detect the Traverse City cherries or pistachios that were supposed to provide additional flavoring. The carrot cake was fine, but the apple cinnamon cheesecake with bourbon caramel sauce was dry and unappetizing. Another big problem was service. On both our visits, we were greeted by two different amiable servers, who seemed distracted. The first time, when we were one of only three parties, every course seemed to take forever to deliver. The second time we experienced the same problem. You can get away with leisurely dining when you're an expensive destination restaurant, but it simply doesn't work in a less upscale establishment, where customers are looking for faster turnaround.
There aren't that many bistros in this area of town, and Roger Monk's attracted several parties the second time we visited on a weeknight. But if this place is to have staying power, it has some work to do in improving both its service and the quality of food.
Julie Halpert reviews restaurants for AnnArbor.com.