Posted on
Tue, Jul 9, 2013 : 10:31 a.m.
Rolling Sculpture bringing concept as well as classic cars to downtown Ann Arbor streets
By Will Stewart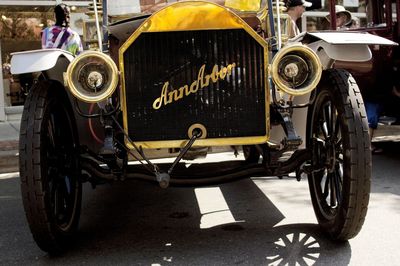 Jeffrey Smith | AnnArbor.com file photo
Concept cars not yet available on the market will mingle with classics from all eras when the
Rolling Sculpture Car Show
rolls onto downtown Ann Arbor streets on July 12.
Two prototypes—a coupe and a convertible—of the 2014 Corvette will be on hand as well as the futuristic Cadillac ELR concept car are among the more than 350 other classics for the 19th annual version of the show.
"I think we have a really great lineup of concept cars," said Maura Thomson, executive director of the Main Street Area Association, which, along with Bill Crispin Chevrolet, sponsors the event.
"People who are into Corvettes and who follow the automotive industry will be really excited to see these models at the show."
PREVIEW
Rolling Sculpture Car Show
Who: Main Street Area Association and Bill Crispin Chevrolet are sponsors.
What: Beautiful unique and classic cars as well as concept vehicles on display. A DJ will play music.
Where: Main, Liberty and Washington streets, downtown Ann Arbor.
When: 2-10 p.m. Friday, July 12.
How much: Free admission. For details or information on registering a car, see the website.
The concept vehicles will be on display along with the other cars, ranging from refurbished classics to hot-rods of all shapes and sizes.
And the show's presence right downtown adds another cool dimension to the event, which also features classic hot-rod tunes spun by DJ Surfer Joe, and live remotes from 107.71-FM to create a fun, family friendly event that typically draws as many as 5,000 visitors to the downtown area.
The event runs from 2-10 p.m.
"This isn't your typical car show," Thomson said. "This is such an eclectic mix and attracts people from all different walks of the car world, who maybe haven't been here before and introduces them to what we have to offer here."
"It's all about connecting people."
Admission is free for spectators. Pre-registration to show cars has expired and a $35 entrance fee for on-site registration, although there is no guarantee of available space, Thomson said.
While participants compete mostly for bragging rights, representatives from Car and Driver and Automobile magazines, as well as the Ann Arbor Observer, will be on hand to award "Editors Choice" trophies to the cars they deem to be the best in the show. In addition, Thomson said, an anonymous sponsor will award the "Skinned Knuckles" trophy to the owner who has done the most "do-it-yourself" work on an entry.
"This event really is a car lover's dream," Thomson said.