Posted on
Wed, Jun 27, 2012 : 5:16 a.m.
Rufus Wainwright's Summer Festival debut is a Game-changer
By Martin Bandyke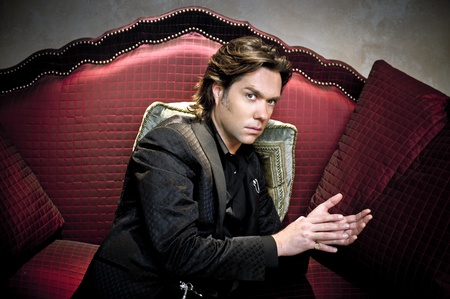 photo by Barry J. Holmes
A sophisticated singer-songwriter who works mostly in the field of adult-alternative pop, with side trips through the world of opera and the catalog of Judy Garland,
Rufus Wainwright
arrives this Saturday at Power Center for his long-awaited debut performance at the Ann Arbor Summer Festival.
The timing couldn't be better, as the 39-year old native of Rhinebeck, NY, has just released one his finest and most accessible albums to date, "Out of the Game," a collaboration with studio whiz Mark Ronson. Best known for producing much of Amy Winehouse's smash-hit album "Back to Black," Ronson is the perfect foil for Wainwright, bringing clarity and focus to the arrangements and incorporating guests ranging from Sean Lennon to Wilco's Nels Cline.
The son of folk icons Loudon Wainwright III and Kate McGarrigle, Rufus Wainwright recently spoke to me by phone from Toronto about "Out of the Game," his musical bromance with Ronson, and why he's so happy about playing in Ann Arbor this weekend.
Q: How did you first meet Mark Ronson and come to work with him on your new album?
A: I had heard a lot about him over the years, a lot about his musical talent and classic good looks. He was this omnipresent glam figure in the ether of existence. I was excited to finally meet the man behind the mask and once I did we immediately fell in love with each other (laughs). It was an intense bromance as we went into the studio and the next thing you know, like anything sweet and lovely, it was very brief and finished quickly. We did the album in just two months, and I think the finished work exhibits this very beautiful affection we have for each other.
Q: John Lennon's son Sean is guest guitarist on the track "Sometimes You Need." How did he get involved on that song?
A: I've known Sean for many, many years, but I have to credit Mark with the idea. He's invested in and entranced by other musicians, and he loves and looks for the most positive aspect of an artist like Sean, wants to show them to others, and I was happy to go along with the idea.
Q: "Perfect Man" may be the most perfect tune on "Out of the Game," with its lyrical flights of fancy, exquisite melody lines, a beautiful harmony vocal from your sister Martha, plus a funky backbeat to boot. What's the story behind that one?
A: That's one I wrote many years ago for Neil Tennant to sing with the Pet Shop Boys and in the end it didn't work out for him. Mark insisted on presenting it, but I wasn't so keen on the idea. It has so many chords on the piano it's tough to play. But it's turned out to be one of everyone's favorite songs on the album.
Q: Are there any other older songs on the album?
A: There are three old songs total: "Perfect Man," "Bitter Tears" and "Welcome to the Ball." The rest are all brand new. We didn't have to go back and dig up too many old-faithfuls, although it was encouraging to hear how well the old songs fit with the new ones.
Q: How much touring have you done so far since "Out of the Game" was released in April, and how do you feel about performing in Ann Arbor at the Summer Festival?
A: We've done quite a few shows so far, including London, Paris, New York and everything in between. But there's a lot more to come and we're kind of building it at a steady rate. This is the type of album that will last through the summer and I hope people utilize it on those muggy afternoons.
I'm really looking forward to playing in Ann Arbor, as audiences there have been good to our family over the years. My mother spent a lot of time there; my father as well. Q: You had major events happening in your personal life over the last few years, including the death of your mother, your engagement to partner Jorn Weisbrodt, and the birth of your baby daughter, Viva. Did these life-altering moments provide a lot of material for the songs on "Out of the Game?"
A: Music served me very well when all these things happened. I was able to take solace at the piano and guitar and translate these events into songs.
Q: Your first album came out almost fifteen years ago, and I was wondering if songwriting has become more of an easy process for you over time.
A: Well, I'm always writing, but I can't really say there has been a particularly good year since I got started. I continually have something on the burner, and I very much subscribe to more of a utilitarian idea of song-craft. It is about the number (of songs you write) and you just have got to keep pushing them out there and not worry so much if you want them to be good. It is about the work.
Q: Are you one of those songwriters with a strict regime? Do you sit down on a daily basis from 9 to 5 and write every day?
A: I don't do that, per se, but I did do that with my opera (2009's "Prima Donna"). With songwriting all you have to do is take a walk and start humming to yourself. It all has to do with a combination of how you view the world and rhythm.
Rufus Wainwright plays the Power Center, 121 Fletcher St., at 8 p.m. Saturday, June 30. Tickets, $30-$50, are available online.
Martin Bandyke is the 6-10am morning drive host on Ann Arbor's 107one, WQKL-FM. Follow him on Facebook, Twitter and at martinbandyke.com.