Posted on
Wed, Nov 9, 2011 : 5:41 a.m.
Russell Brand bringing his stand-up act to EMU
By Kevin Ransom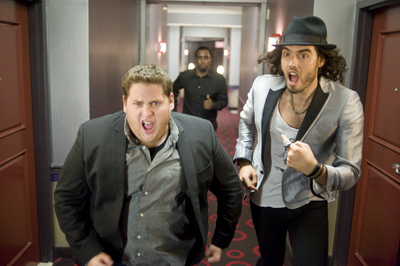 Anyone who's kept up with popular culture over the last three years or so knows that British comic / actor
Russell Brand
is not shy about attracting attention—or about baring his soul when it comes the various addictions that, in the past, caused him to behave in even more outlandish, attention-getting fashion.
But along the way, he's become a movie star, after having started out as a stand-up comic. Brand brings his stand-up act to the Eastern Michigan University Convocation Center in Ypsilanti next Wednesday.
Brand sees his outlandish sense of humor as something of a novelty - which is one reason, according to him, that he has become so popular. "Novel" would be one way of putting it: For example, on Sept. 12, 2001, when he was a VJ for the British MTV network, he showed up for work dressed as Osama bin Laden. He was fired on the spot.
Then, in '02 he read pornography aloud on a radio show, and was also quickly fired.
PREVIEW
Russell Brand: "Keeping it Simple"
Who: Irreverent comedian and actor.
What: Stand-up comic riffs on sex, popular culture, the media and various other topics.
Where: Eastern Michigan University Convocation Center, 799 N. Hewitt, Ypsilanti.
When: Wednesday, 7 p.m.
How much: $43 and $23, Tickets can be purchased via www.emutix.com, or by phone at 734-487-2282.
He was fairly deep into his addictions during that period, but now has been clean since 2003.
But even when sober, Brand is a loose comic cannon. When he hosted the 2008 MTV Video Music Awards, he made obscene jokes about the Jonas Brothers, and when characterizing George W. Bush, used the "R" word - the one once used as an insensitive and insulting term for the mentally impaired, but now commonly used by stand-up comics. And he said that in England, Bush "wouldn't be trusted with a pair of scissors."
What really launched Brand to celebrity status, though, was his'08 U.S. feature-film debut as the lascivious, brash rock star Aldous Snow in "Forgetting Sarah Marshall." He got rave reviews for his performance, his character and his dialogue—so off-the-wall funny that his bankability went through the roof. Brand reportedly improvised much of his dialogue, further underscoring his skewed, razor-sharp comic sensibility.
"The interest in me and acceptance of my novelty has been like when Superman leaves his planet and suddenly things that are just normal for him become these superpowers here on earth," Brand told Time magazine. "Or like Columbus returning from the colonies with tobacco."
Attaining movie-star status did not dampen his proclivity for getting himself in hot water or continuing to push the envelope of what is deemed acceptable in the comedy world. The same year that "Sarah Marshall" was released, he figuratively jumped off a cliff on his BBC radio show when he and his sidekick Jonathan Ross made a prank call to actor Andrew Sachs (from the "Fawlty Towers" TV show) and left messages on his answering machine about sleeping with his granddaughter, peppering the taunt with a few obscenities.
Sachs demanded an apology and Brand complied, but Brand and Ross were still suspended by BBC, prompting Brand to resign.
Brand weathered the storm, and two years later, he reprised his role as the unpredictable, sex-obsessed Aldous Snow in "Get Him to the Greek"—a spin-off sequel to "Sarah Marshall" that did big numbers at the box office.
On that front, it didn't hurt that, right around the same time, he was smitten by and then married "Teenage Dream" pop singer Katy Perry, which caused much tittering in the show-biz community due to Brand's reputation as a womanizer. He told Rolling Stone that such exploits were in the past, and were due to a sexual addiction, and that he no longer was a skirt chaser.
In fact, Brand had been exploring Eastern spirituality, and the couple married in a traditional Hindu ceremony in India last year.
Brand has also appeared in the films "Bedtime Stories," "The Tempest" and "Despicable Me"; did a stand-up special for Comedy Central; and written two memoirs—one of which made the New York Times best-seller list. And this year, he portrayed the boozing spoiled, wealthy man-child in the remake of "Arthur." This time, the reviews were not as effusive, but that had more to do with the tepid script than Brand's performance.
Although Brand has long plumbed his addictions and recovery for laughs in his stand-up act, he now finds himself moving away from those topics. "We're entering an age where we have this bewildering lust for downfall," he told Time. "We shouldn't be at the sidelines applauding people's self-destruction."
And despite the splash he's made in movies, stand-up is still probably the form that is the best conduit for Brand's unique comic sensibilities—as opposed to films, where, despite his improvisational talents, he still has to work within the parameters of a script written by others.
"For me, it's the perfect medium," he said. "It's uncensored and immediate."
Kevin Ransom, a freelance writer who covers music and comedy for AnnArbor.com, can be reached at KevinRansom10@aol.com.