Posted on
Sun, Aug 21, 2011 : 5:57 a.m.
Stars of Russian Ballet livening up summer at the Power Center
By Susan Isaacs Nisbett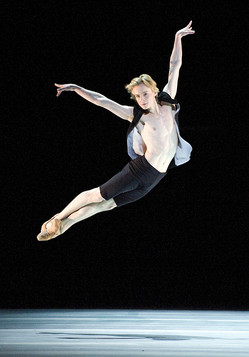 August in Ann Arbor is something of a doldrums for the lively arts, and dance is no exception.
Yet, for the second year running, the end of the month brings what promises to be an exceptional classical ballet adventure, as dancers and stars from (in alphabetical order) American Ballet Theatre, New York City Ballet, the Royal Ballet, San Francisco Ballet and the Staatsballett Berlin, among others, gather on the Power Center stage for a Stars of Russian Ballet Gala.
The gala, Aug. 27, organized by
Sergey and Jessica Rayevskiy
of the Novi-based Academy of Russian Classical Ballet, features favorite solos, pas de deux and scenes from the great 19th century repertoire (think "Swan Lake" and "Giselle" and "Dying Swan") as well as contemporary classics like Balanchine's elegant "Tchaikovsky Pas de Deux" and "Les Bourgeois," a work immortalized on "So You Think You Can Dance?" by ABT superstar Daniil Simkin—who reprises it at Power Center, up close and personal.
In supporting roles and ensembles the gala also features students—from Michigan, around the U.S. and Canada—who have worked with these pros for the preceding two weeks in an annual Academy of Russian Classical Ballet intensive workshop.

You'll see them in the Garland Waltz from "Sleeping Beauty," as the Wilis (the spirits of girls who die before their wedding day) in an excerpt from "Giselle," and in ensembles in such excerpts as the White Swan Adagio from "Swan Lake" and the famous "Don Quixote" pas de deux.

The Rayevskiys began the workshop in 2008, motivated by the desire to help ballet students from Michigan experience the larger dance world.

"There aren't tremendous opportunities for students from Michigan," said Jessica Rayevskiy. "There are really no professional ballet companies in the state except for Grand Rapids Ballet. We wanted to find some ways to help them and to help them move on to other places."

A number of students who have participated in the Russian ballet intensive have gone on to study at the Bolshoi school and at other prestigious international schools.

In fact, two Michigan dancers who participated in previous workshops—Haley Schwan of Howell and Patricia Zhou of Canton—are returning to dance in the gala. Schwan is among just a handful of Americans to have ever been accepted by the legendary Vaganova Academy in St. Petersburg, Russia, that has produced famous dancers like Mikhail Baryshnikov (and where Sergey Rayevskiy trained). She now dances with the Staatsballett Berlin. Zhou begins her first season with Britain's Royal Ballet this fall.

"It's nice to have these girls back as examples for the other young dancers," Jessica Rayevskiy said.

Like Schwan and Zhou, most of the dancers performing and teaching are professional acquaintances and friends of the Rayevskiiys. "It's a small world," Jessica Rayevskiiy said. Jessica Rayevskiiy danced professionally with Sarasota Ballet. Her husband, Sergey, danced with the Kirov Ballet; Sarasota Ballet and Tulsa Ballet.


PREVIEW
Stars of Russian Ballet Gala
Who: Stars and rising stars from companies ranging from American Ballet Theatre to the Royal Ballet and Staatsballett Berlin. Presented by Ballet Russe-Russian Artists International/the Academy of Russian Classical Ballet, in Novi.
What: A program of excerpts from classical and contemporary ballets.
Where: Power Center for the Performing Arts, 121 Fletcher St.
When: Saturday, Aug. 27, 7 p.m.
How much: $24-$56, through Michigan Union Ticket Office, (734) 763-8587, and at Ticketmaster.com, (800) 745-3000.
Lined up to perform, in addition to ABT's Simkin, Schwan and Zhou are: Bolshoi-trained
Maria Kochetkova
and
Gennadi Nedvigin
of San Francisco Ballet (they'll dance the Balanchine); and
Joseph Phillips
of ABT and
Ana Sophia Scheller
of NYCB. The latter two stepped in just recently at Simkin's suggestion when the Rayevskiiys found that the visa application they had made for dancers from the Mariinsky Ballet (the famed Kirov company) had been denied.
"We'll start again to see if we can get those dancers here for our 'Nutcracker,'" Jessica Rayevskiy said.
Though Jessica Rayevskiy is organizing the gala rather than dancing, she herself is no stranger to Power Center or to Ann Arbor.
As Jessica Little, she grew up here, attended Greenhills School through middle school even after her family moved to Brighton and studied dance at CAS Ballet Theatre School here from age 4 to 14—it specializes in teaching the Russian Vaganova method—before heading to the Kirov Academy in Washington, D.C.
"It brings back such memories to be back in Power Center," Jessica Rayevskiy said. "We do this gala because it's a blast."