Posted on
Thu, Sep 27, 2012 : 12:58 p.m.
Ryan Gosling in Ann Arbor? Probably not
By Bob Needham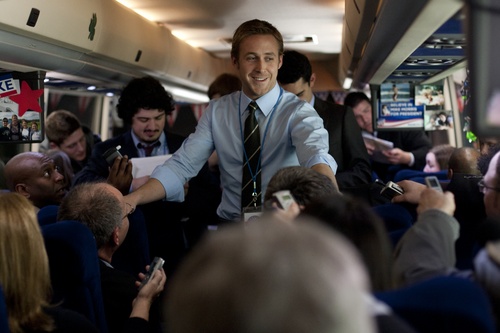 Twitter came alive Wednesday with reports that actor
Ryan Gosling
was in Ann Arbor on the University of Michigan campus. Except that they weren't exactly reports.
Nobody seems to have actually seen the popular, good-looking actor in town. But an awful lot of people were convinced he was here.
A couple of tweets about him being here cropped up over the weekend. But things really blew up Wednesday: "So I just heard Ryan Gosling is somewhere here in Ann Arbor apparently to film a movie!" was a typical tweet … but there were plenty that were more, um, enthusiastic, like "OMG RYAN GOSLING IS IN ANN ARBOR CANT BREATHE CALL 911 I SEE A LIGHT... SHOULD I GO TOWARDS IT?"
On and on it went, with person after person passing on the "news." Some of the tweets said George Clooney was here too. It was all still rolling along Thursday morning, with some of the tweets insisting the excitement was happening RIGHT NOW.
Only problem is, it's almost certainly not true. Gosling has been filming a Terrence Malick movie with Rooney Mara in Austin, Texas, this week. A quick Google search turns up photos from filming Monday, Tuesday, and even Wednesday as well. (And Clooney is busy shooting in Oklahoma.) Never having met the guy, I can't say definitively that he wasn't here—or isn't here RIGHT NOW—but it sure does seem unlikely. (And if anyone has any evidence that I'm wrong, please share it.)
So how did the rumor start?
It probably has roots in a couple things. First, of course, Gosling actually was in Ann Arbor for a few days in March 2011, with Clooney, shooting "The Ides of March." Somebody even snapped photos of him walking his dog on the U-M campus at that time (several of Wednesday's tweets mentioned dog walking).
Then, a few weeks ago, Gosling actually was in the Detroit area scouting locations, and a couple news outlets reported "Twitter sightings" of the actor in various places, one of which was Chelsea. However, anyone who bothered to check out the author of that particular tweet would have realized it was referring to the neighborhood in Manhattan, not the small city in Michigan.
It's easy to picture someone hearing about these things, or finding something online and not paying attention to the date, and telling a friend—and before you know it, boom goes the Twitter.
You've probably heard the old saying, attributed to Mark Twain, that "A lie can travel half way around the world while the truth is putting on its shoes." In the Twitter Age, a rumor can make it to all the far corners of the earth before the truth even gets out of bed in the morning.
Bob Needham is director of entertainment content for AnnArbor.com. Reach him at bobneedham@annarbor.com or 734-623-2541, and follow him on Twitter @bobneedham.