Posted on
Mon, Mar 14, 2011 : 6 a.m.
Sacred Spaces: Well-loved Scythian band returning to The Ark St. Patrick's Day weekend
By Moira Cullen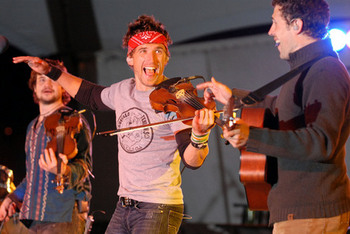 Photo by Nick Tremmel | Chronicle
Scythian (pronounced sith-ee-in), dubbed by The Washington Post as "one of DC's most energetic and eclectic bands" will perform at The Ark on Friday, March 18 at 8pm.
For one night, The Ark will be transformed into an Irish pub, of sorts — where mug of beer sits next to mug of cocoa, and rowdy college students compete with uninhibited 7 year olds for the loudest whoop! It is an all ages show, and everybody is invited to join in on the fun which follows Scythian wherever they go.
It is their love for "bringing the house down" that keeps the crowds coming back for more, but don't underestimate the musical prowess of this band. Drummer Mike Ounallah has a master's in Jazz Percussion, Josef Crosby and Alexander Fedoryka were Suzuki trained in violin and Dan Fedoryka in piano. Their newest member, Ben David Warner, brings seven instruments to the mix, including the banjo.
Photo Courtesy Michelle Roche| Michelle Roche Media
In a recent interview with Danylo Fedoryka, I learned a lit bit more about the musical upbringing of Alexander and Dan, brothers of the band. They started Suzuki at age 3 and 4, respectively — Alexander on violin and Dan on piano.
Alexander spent time in Japan studying under Dr. Shinichi Suzuki, where "in true Mr. Miagi fashion, he had Alexander practice small motions 1,000 times a day to ensure 'diamond tone'." Dan was taught by his Juliard trained mother, Irene Fedoryka.
Their lives were steeped in the folk tradition of their Ukrainian ancestry, and after a short break from music during college, they felt called to explore the Irish folk tradition.
"We learned from tapes at first and became street performers. Eventually, Alexander decided to learn from the heart of it all and spent four months living in Dublin-playing in the streets by day to put bread on the table and frequenting the pubs by night to pick up new tunes. He came back with a store of great fiddle tunes, and since then we have explored other cultures and brought them to the mix."
It is an exciting time to be emerging onto the music scene. There has been a return to a purer, truer form of music. Strings have replaced the synthesizer, and the internet has made it possible for bands like Scythian to win their own audiences, without the need to sign on to big record labels.
According to Dan, "It has put music back into the hands of the people. Now they can decide what they like."
When asked what to expect on Friday, Dan replied, "We love the intimacy of the Ark. It makes for a special show. Come with an open mind, and be prepared not to know what is going to happen next. You get paid to be serious and productive five days a week. This is your time to come and just be ready to be entertained."
In the words of Shakespeare, "If music be the food of love, play on." Play on Scythian, and may your music unite peoples of all ages, cultures, and creeds — for one night anyway.
To learn more visit: www.scythianmusic.com.
Moira Cullen works with husband, John Cullen, in their family business, Celtic Gardens. She home-schools her four very energetic children, and writes in her spare minutes. To learn more visit: www.celticgardenimports.com