Saline Area Players presenting 'Steel Magnolias'
Posted on Mon, Oct 22, 2012 : 5:49 a.m.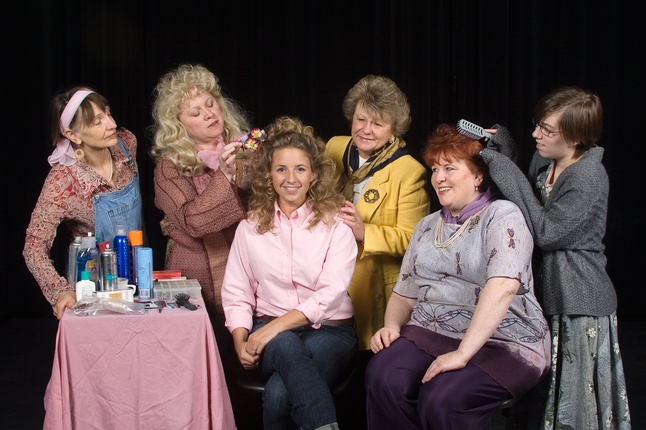 Photo by Peter DeHart

The Saline Area Players will perform "Steel Magnolias," written by Robert Harling, on Oct. 26 and 27 at 8 p.m., and Oct. 28 at 2 p.m., at Liberty School Auditorium, 7265 N. Ann Arbor St. in Saline.

Rebecca Groeb-Driskill directs the show. Tickets are $15 for adults and $12 for students and seniors. Tickets can be reserved at the website, www.salineareaplayers.org, or picked up in person at Maureen's Designs, 101 S. Ann Arbor St. in Saline; tickets are also available at the door. General questions and those related to special needs may be directed to 734-429-8535.

The play's action centers on Truvy's local beauty shop and six different "regulars" who gather there. The drama begins on the morning of Shelby's wedding and covers events over the next three years, including Shelby's decision to have a child despite having Type I diabetes and the complications that result from that choice. Throughout the course of the story, we are able to observe the unlikely friendship between Clairee and Ouiser; Annelle's transformation from a shy and eager to please newcomer in town to a religious fundamentalist; and Truvy's relationship with the men in her family. This community of Southern women comes together to share their secrets, fears and love for one another, sometimes while engaging in neighborly gossip. But at the same time these women provide a crucial support system characterized by humor, even in the darkest moments. When tragedy strikes, it is the familiar comfort of Truvy's salon where they seek the solace and comfort that, ultimately, sees them through.

This play, written in ten days by Harling, started as a short story which expressed his personal experience in dealing with the death of his sister, who died following a kidney transplant brought on by complications with diabetes. Friends encouraged him to record his experiences and feelings in an effort to deal with his grief and as a way to provide his nephew, who was two at the time of his mother's death, a "living image" of his lost parent and a "sense of his past." It opened Off-Broadway in 1987 and finally received its Broadway debut in 2005. A well-received film version appeared in 1989. The play is still frequently performed throughout the U.S. by amateur, as well as regional, theaters.