play preview
Saline Area Players present 'The Sound of Music'
Posted on Thu, Mar 24, 2011 : 11 a.m.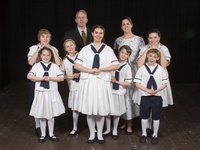 photo by Peter DeHart Photography
Saline Area Players are presenting "The Sound of Music," by Richard Rodgers and Oscar Hammerstein II, with artistic direction by Carrie Jay Sayer and musical direction by Robert Cindric. Showtimes are 7 p.m. on March 25; 2 and 7 p.m. on March 26; and 2 p.m. on March 27 at the Ellen Ewing Performing Arts Center in the Saline High School, 1300 Campus Parkway in Saline.
Tickets are $15 for adults, and $12 for seniors (65+) and students through high school. Tickets may be obtained in advance by visiting the website at www.salineareaplayers.org, calling 734-944-4940, or going to Maureen's Designs, 101 S. Ann Arbor St., or Dr Kelly's office, 1020 E. Michigan Ave, Suite E, Saline. Seating is general admission, though there is a prime seating area for those ordering tickets in advance. The auditorium is accessible, and patrons are encouraged to call ahead if they have special seating needs.
The longest running Broadway musical of the early 1960s, "The Sound of Music" marked the last collaboration between composer Rodgers (1902-1979) and lyricist/librettist Hammerstein (1895-1960). "The Sound of Music" is still regarded by many as the most famous musical of all time. Please visit SAP's website for more details.