Posted on
Sat, Aug 24, 2013 : 5:31 a.m.
Saline Community Fair marches on, celebrates rural roots
By Jennifer Eberbach
The annual Saline Community Fair keeps traditions alive by celebrating today's agriculture, community and rural roots.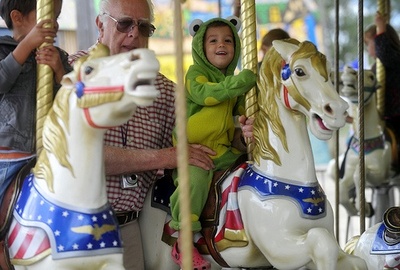 Melanie Maxwell | AnnArbor.com
Farm animals are exhibited and auctioned, while people compete in tractor, truck, horse, motocross and autocross events. A carnival of rides, a parade, kid's activities, live performances, pageantry and a "Saline's Got Talent" show provide entertainment.
These highlights and more will happen at the 78th Annual Saline Community Fair, from Aug. 26 to Sept. 2, which features various events at various times, at the Washtenaw Farm Council Grounds.
View a day-by-day schedule of events and offerings on the fair's website.
A lot of community fairs took a hit when State funding through the Michigan Department of Agriculture was cut. Concern over the Saline fair's longevity arose, as the Saline Community Fair Association found themselves having to look for ways to cut expenses and bring in money.
According to Board of Directors President Kevin Ernst, things are looking brighter.
"We were on the plus side last year, as far as making some money, and we want to maintain that momentum. It's definitely a positive for morale and attitudes, as far as the fair's longevity goes," Ernst says.
"We've trimmed expenses where we could and asked for more volunteers and donations," with the goal of "keeping as many offerings as possible," he says. Something that helped out last year, "Washtenaw Farm Council was willing to work with us to adjust our rental fee. We thank them for that," he explains.
Although adjusting has required them to cut back on expenses and some premiums, they are also coping by trying out new things to please the crowd and generate revenue.
This year, "Parade on the Grounds" will kick off festivities. The 'pre-fair' event will be held August 26, at 6:30 p.m.
The downtown parade was cancelled last year. Moving it to the fairgrounds and changing its nature saved them on costs associated with a big parade downtown and the premiums they awarded.
"We don't have the traditional parade downtown anymore. Instead, we are trying to grow the parade on the grounds. It's totally different - there aren't the cars and trucks. Instead, the kids dress up and walk through with animals. It is a smaller, participation-based parade," Ernst says.
A new "Beer Barn" will feature live music. On weekend days, August 30, August 31, and September 1, the beer, entertainment and social space will be open from 5 p.m. to midnight, with last call at 11 p.m.
"We've had conversation with other fairs that have similar beer and social areas, which have been financially successful. It's been in our conversations board meeting after board meeting. And we finally decided, if we are going to do something, we've got to do it," Ernst says.
After a temporary hiatus, the fair is bringing back "Draft Horse Pulling," on August 28, at 2 p.m. "Previously, we were paying a high premium for the horse pulling. But we have been able to get that to a rate that is attractive and we can afford. We really wanted to have that back," says Ernst. Prizes for 1st through 10th-place will be awarded, with 1st taking $330, according to the 2013 Premium Book.
An area the board is developing is activities for young children. A "Preschoolers Day," full of activities, will happen August 29. The Hands on Museum will be there. At other times throughout the fair Cirque Amongus will return with their hands-on side show experience. Kid's can watch their teachers compete in the AG Olympics, on August 28, at 7 p.m., and there are other kid-focused events.
This is the second year the fair has been held at an earlier date. In the past, the fair competed with the first week of school. Now it happens as a last hurrah before the end of Summer break.
However, one date that could not change was the US Demolition Derby State Finals, previously held during fair week. "Moving the dates of the fair, we didn't want to lose the opportunity to have the State Finals," Ernst says. This year's event, on September 7, at 7 p.m. ($12 ages 6 and up) "will offer locals another opportunity to come back out to the fair grounds," he adds.
As with life in general, there is no telling what the future holds for Saline Community Fair and others impacted by the cuts and the economy. Ensuring the fair's longevity is requiring change, in order to keep the books in the black and people coming to the fair.
"I think the biggest thing that you mention is heritage," Ernst says, agreeing that celebrating rural roots and agricultural heritage is an important part of the event. "We don't want to lose that. We want to keep as many people connected to the rural roots as we can, so there isn't a disconnect. Probably the best local way to do that is with the fair. We want to maintain a traditional fair but adjust to the times."