concert preview
Renowned Nashville songwriter Sally Barris playing Green Wood Coffee House
Posted on Tue, Oct 23, 2012 : 5:44 a.m.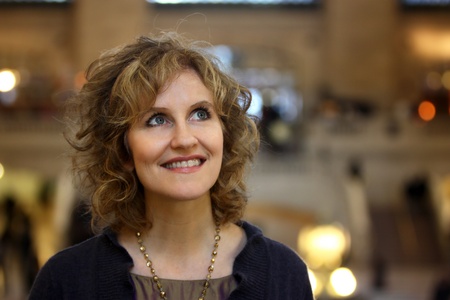 Singer-songwriter Sally Barris is a Minnesota native who's been living in Nashville for the last 20 years—first plying her trade as a songwriter for a music publishing company, and then as a recording / touring artist.

Although her own records are in the country-folk / Americana vein, several of her heartfelt, finely-observed songs have also been covered by major-label Nashville country-pop artists, like Kathy Mattea, Martina McBride, Lee Ann Womack, Trisha Yearwood and Keith Urban. When her song "Let The Wind Chase You" was recorded as a duet by Yearwood and Urban, it received a Grammy nomination for best country vocal collaboration in 2009.

And it was a trip back to Minnesota that sparked the tone and mood of her new album, "Wilder Girl." It's Barris's fourth album, and her discs have been progressively "less produced" than the one that preceded it. Which means that "Wilder Girl" is her most spare and stripped-down outing to date.

"I'd gone back to Minnesota for a visit, and while I was there, I remembered how much it meant to me, and all of these memories from my youth came back to me," says Barris, who performs at the Green Wood Coffee House on Friday. "And I visited while I was touring, and that was very grounding, to go 'home' when you're out there traveling from city to city. That experience inspired me to write the song 'Angel of the North,' and that seemed to set the tone for the rest of the songs."

A couple of the tunes on the new disc were written prior to that trip, but Barris chose the ones she thought best suited the overall tone established by her newer songs.

Many of the songs are indeed wistful, pensive or introspective. "Let the Wind Chase You" is a break-up song, but a gentle one. "Yeah, I think it's a sweet song, even though you can still feel the twist of the knife," says Barris by phone from a tour stop in East Rutherford, New Jersey. "She's saying, 'I'm not going to chase you any more,' but I tried to write it in a poetic way."
PREVIEW
Sally Barris
Who: Country-folk / Americana singer and songwriter from Minnesota.
What: Heartfelt, fine-detailed songs, delivered in a sweet, high voice.
Where: Green Wood Coffee House, First United Methodist Church Green Wood, 1001 Green Road.
When: 8 p.m. Friday, Oct. 26.
How much: $15. Buy tickets by calling 734-665-8558 or online at fumca2.wufoo.com/forms/green-wood-coffee-house-sally-barris/.
"You and I Could Never Be Friends" is more emphatic: Barris sings, "Love me with everything that you can, or I never want to see your face again." "Perfect Love" and "Standing Still" ruminate over spiritual matters, while the title track "was sort of my inner teenaged girl coming out," says Barris with a laugh.
The disc was co-produced by Barris and guitarist Steven Sheehan, who has played on her albums in the past, but "never as much as he did on this one," she says. "I met him back when I first moved to Nashville, and we went to the house of a friend who had a studio there, and I loved the vibe of just me and him and me playing together. So I wanted to re-create that vibe on this record."
"Wilder Girl" isn't wall-to-wall pensive country-folk songs, though. The disc also includes a couple of more uptempo tracks, like "Sinful Thoughts," a bluegrass-country romp.
"I try to honor all the songs, and I like to have a balance between sad and happy songs, and a balance between slow and uptempo songs. Same with my live shows. I like variety, and I think fans do, as well."
The disc is mostly acoustic, with Sheehan's and Barris's acoustic guitars up front, with subtle splashes of dobro, pedal steel and upright bass adding texture.
"When I released my first record in 1999, it was pretty produced," says Barris, acknowledging that she chose that route partly due to commercial considerations. "Recording my albums has sort of been like a science experiment," she notes. "I learn something new with each one, and with each of them, I've tried to do something different than I did on the last one.
"And back when I put out my first record, people would come to my shows—which is just me and my acoustic guitar—without having heard the record, they would ask me what it sounded like, and I would tell them. And many of them would say, 'Well, when you make a record of just you and your guitar, that's the album I want to hear.'
"So, I've moved more in that direction, partly for the fans. And on this one, I really wanted there to be a feeling of intimacy, with a lot of space in it."
Barris's sweet, high vocals often evoke those of Emmylou Harris, Dolly Parton and Claire Lynch, so the more spare country-folk arrangements suit her voice.
"Yeah, I don't have one of those husky country-rock voices, so you're not going to hear me belting out a power ballad," she says, laughing again. "When I started out, I was really inspired by Emmylou, the way she would mix country and folk and pop, or do country songs in a bluegrass style.
"And Linda Ronstadt was a big influence on me, in a couple of ways—she is such a great interpreter, and hearing those records made me want to track down the writers of those songs, like Warren Zevon and Elvis Costello and Karla Bonoff. I wanted to write those kinds of songs - that's what really inspired me to want to be a songwriter."
Although her songs have won favor from the commercial-country crowd, Barris has never really enjoyed writing "to order." "When I was writing for the music publisher, whenever I was asked to write a certain kind of song in a certain way about a certain topic, it never really worked out. But when I wrote songs from my heart, songs that were truthful to me, those were the best songs.
"But I'm grateful for those years I spent focusing on just writing, before I began touring, because it really helped me to hone my craft. And writing songs is the thing that, to me, is still the most fun. I just love putting a song together."