Posted on
Wed, Oct 20, 2010 : 5:24 a.m.
Sankai Juku bringing butoh dance back to Ann Arbor
By Susan Isaacs Nisbett
The shaved heads; the men's white-powdered faces and bodies; the mouths open in silent screams; the slow motion of the dancers in spare, symbol-laden environments; the moments of frenzy punctuating the calm: Over the last few decades Americans have grown familiar with these conventions of Japanese butoh dance, the "dance of darkness" that emerged in Japan following World War II.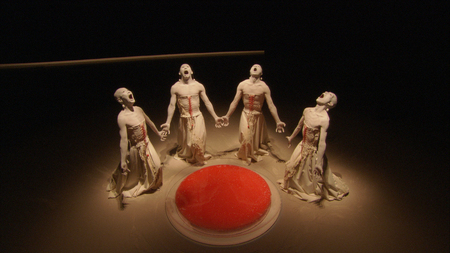 One of the main troupes to popularize this form in the West has been
Sankai Juku
, founded and led by Ushio Amagatsu. Saturday and Sunday, the company returns to Ann Arbor for the first time in more than a decade, courtesy of the
University Musical Society
.
The work it brings, Amagatsu's 2002 Olivier Award-winning "Hibiki - Resonance from Far Away," features six dancers, Amagatsu included, in a series of scenes (to music by Takashi Kako and Yoichiro Yoshikawa) separated by silence and darkness. In these scenes — "Drop," "Displacement," "Empty space," "Outer limits of the red," "Reflection" and "Resounding" — water droplets, water basins and sand are essential elements.
"I could say that it occurred to me to depict a chain of life, metaphorically speaking," Amagatsu said in translated answers to questions put to him via e-mail. "For me, the water is the origin of life, and conversely the sand is an ultimate form of death."
PREVIEW
Who: Butoh dance troupe from Japan.
What: "Hibiki - Resonance from Far Away."
Where: Power Center for the Performing Arts, 121 Fletcher Street.
When: Saturday, 8 p.m.; Sunday, 2 p.m.
How much: $18-$42, available from the UMS Ticket Office in the Michigan League, 734-764-2538, or online at ums.org.
Free related event: Butoh and its Cinematic Contemporaries - Film Screening. Wednesday, Oct 20, 8 p.m., Helmut Stern Auditorium, University of Michigan Museum of Art, 525 South State Street. Professors Markus Nornes and Erik Santos introduce the connections between the films "Dance of Darkness" (Directed by Edin Velez, 1989, 55 min.) and "Sacrifice" (Donald Richie and Marty Gross), the butoh tradition and the context in which these films and dance forms were created.
Of course, nothing is as black and white as death and life in a Sankai Juku performance. Much is left to the audience to interpret.
" 'Hibiki' literally means 'resonance,' he wrote. "I do not think it is right to explain my work to an audience. What the audiences can feel from the title and the stage, I would like to leave it up to their own impressions. Since each member of audiences has a different background and set of experiences, they each will bring their own interpretation of the themes of my work."
The company's spare sets may encourage individual interpretations. "The stage set is made of simple, primitive elements," Amagatsu has said about "Hibiki." "It may be this very simplicity that encourages the audience to see them in various different ways while the space changes as per each scene during the 80 to 90 minutes of this piece."
For Sankai Juku, the setup of the outer environment is pivotal. It is "the starting point of movements to a large degree," said Amagatsu. "It is the basis for the individual dancers to have a dialogue and to determine what kind of concentration will be in place. Of course, it is a physical dialogue as opposed to verbal. How will the dancers have such dialogue? We need to set up the environment for that, which changes from scene to scene. That is basically how we create movements and dance."
Watch a clip of Sankai Juku's "Hibiki - Resonance from Far Away":
Over the years since he founded the company, in 1975, and even since "Hibiki," Amagatsu said his style has remained rather constant. "I don't think my style has changed so much since the beginning, although in my newer works I have increased the number of dancers on stage," he said. "The appearance or composition of my works may vary, also. Of course, the definition of butoh may vary from choreographer to choreographer. My definition of butoh is a dialogue with gravity."
Susan Isaacs Nisbett is a free-lance writer who covers classical music and dance for AnnArbor.com.