Posted on
Thu, Nov 8, 2012 : 10:16 a.m.
Santa's coming, but Cobblestone Farm is still celebrating Halloween this weekend
By Ann Dwyer
STORYTELLING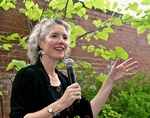 Tellabration is "Coming of Age" with its 21st installment. That's right, Tellabration can drink now (but it won't be, so don't even try). The adult storytelling concert will be held on Friday at 7:30 p.m. at the Trinity Lutheran Church (1400 W. Stadium Blvd.). Grown-ups and teens 14 years and over are invited. Laura Pershin Raynor will serve as MC. On Sunday at 2 p.m. at the Pittsfield Branch Library (2359 Oak Valley Drive), kids and kids-at-heart can enjoy a free, enchanting family storytelling concert. Tellers are Jeff Doyle, Darryl Mickens, Judy Schmidt and Kathleen Wright. Adult concert: $10. Kids concert: Free.
SANTA
Are the kids being brats? Tell them to straighten themselves out because Santa will be arriving at the Briarwood mall on Friday 6:30-7:30 p.m. Join in on caroling through the mall with Voices in Harmony And set yourself up for adorableness/possible awkwardness on "Pet Photo Nights" (Nov. 11 and 18, 6:30 p.m.) with Santa. For 4-legged, leashed, friendly pets that weigh less that 60 lbs. Free. Use the entrance near pole 28 on the west side of Von Maur. 734-769-9610.
LADIES
Sure, we're smart, hardworking, no-holds-barred females who have broken out of our binders, but that doesn't mean we can't enjoy "Wine, Women, and Shopping" on Saturday in Chelsea. 10 a.m.-6 p.m. It just means we get to like it more because we earned it. Chelsea Merchants celebrate Ladies Day. There will be holiday gift sales at shops identified by red and white balloons, as well as a variety of demos and other special events. Enjoy wine tastings at various locations for a nominal fee. There's also an artisan market at the Chelsea Depot with 15 area artists. Free admission. Downtown Chelsea.
HOLIDAY
Not ready to move on from Halloween? Or didn't get to celebrate it because Wednesday is the absolute worst day for a party? That's fine; Cobblestone Farm will hold a "Hallow-Harvest Festival" on Saturday. Noon-4 p.m. There will be live period music, cooking and craft demos, hands-on activities for all ages, including a chance to try out a trebuchet (look it up, it's cool). Best of all, a (belated) Halloween costume contest with prizes. $2 or $5/ family, $1/kids & seniors, free/kids age 3 and under. 2781 Packard (next to Buhr Park), Ann Arbor. 734-794-7120.
FUNDRAISER
The "White Elephant Auction Fundraiser to benefit The Michigan Firehouse Museum" on Sunday at Michigan Firehouse Museum will be a fun way to help a local landmark. Doors open at 5 p.m. This is when you should bring items if you decide to. Auction begins at 6:30 p.m. All auction donations must be clean and in good working order. Some ideas: Good household items, not-quite-right wedding gifts, "unique" collectibles, unused gift cards. They'll even take gourmet desserts. They already have Red Wings tickets, a Lloyd Carr signed football, restaurant gift cards, golf foursomes, a satin-lined Dracula cape, a stuffed taxidermy squirrel(!) and more. Admission: Either the donation of a "treasure" or a $10 suggested cash donation. 110 W. Cross Ave., Ypsilanti. 734-547-0663.