Posted on
Mon, Jul 15, 2013 : 1:22 p.m.
Sarah D'Angelo and Paul Keller Orchestra to host CD release party
By Jenn McKee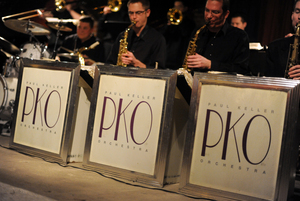 Melanie Maxwell | AnnArbor.com archive photo
Tonight at 7:30 p.m., at Zal Gaz Grotto (2070 W. Stadium Boulevard in Ann Arbor), vocalist
Sarah D'Angelo
and the
Paul Keller Orchestra
will host a CD release party for their new collaboration album, "Happiness."
A press release contains full details:
PKO Records is thrilled to announce the release of the new jazz CD called "Happiness" featuring the fabulous vocalist Sarah D'Angelo with the 14-piece Paul Keller Orchestra. Sarah D'Angelo shines throughout this excellent new record! Her bubbly personality and sweet charm are all over this swinging jazz big band album. You can hear Sarah smiling as she delivers upbeat, positive, and cheerful versions of 11 songs arranged just for her and big band by her friend and bandmate Paul Keller. Sarah brings heartfelt emotion and sincere musical feeling to every track of this fun CD. The Paul Keller Orchestra lifts up of their dear friend and magnificent singer with spirited and joyful support! You'll recognize most of the songs and enjoy all of them!
"Happiness" contains not only great musical performances from Sarah and the PKO but also includes wonderful photography by Ben Weatherston and John Lilley as well as some very complimentary liner notes from WEMU-FM Music Director Linda Yohn.
"Happiness" was recorded LIVE by Paul Klinger over several weeks in the spring of 2013 at PKO's Monday night home, Zal Gaz Grotto in Ann Arbor.
Sarah D'Angelo and the Paul Keller Orchestra will celebrate the release of their new CD "Happiness" with a special concert this Monday, July 15, 2013 from 7 till 9:45 p.m. at Zal Gaz Grotto, 2070 W. Stadium Boulevard (between Liberty and Pauline) on the west side of Ann Arbor. $10 cover cover and $20 for a copy of "Happiness." Good food and drink available at Zal Gaz Grotto, as well as air conditioning and free parking.
Also: Monday, July 15 will be PKO's last Monday of the summer at Zal Gaz Grotto. PKO will take an eight-week hiatus from their regular every-Monday-night big band schedule. PKO will come roaring back to life on Monday, September 15, 2013 with their regular every Monday night big band schedule.
By July 22, 2013, HAPPINESS will be available online at www.pkorecords.com.