event preview
with audio:

Saturday's Top of the Park: Salsa Saturday featuring Saoco, Orquestra Sensacional, DJ Nick Ayers

Posted on Fri, Jun 18, 2010 : 11:30 p.m.
Here's an introduction to the acts appearing Saturday, June 19 at Top of the Park — the Ann Arbor Summer Festival's free, outdoor component, held outside the Rackham Building, on East Washington Street at Ingalls Mall. And don't forget the Top of the Park Photo Contest, presented by AnnArbor.com for the festival.
Activities begin at 5 p.m. with the Grassrootz Stage, featuring local youth talent. The KidZone Tent is open from 5-8 p.m., and Body Masterpiece will offer extreme face painting during the same hours.
The night's headline attractions: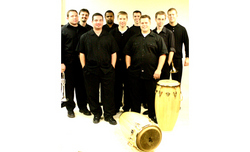 Saoco Rackham Stage, 6:30 p.m.
One of Detroit's leading Latin dance bands, Saoco is comprised of nine of some of the area's most versatile musicians. Having performed functions for the Detroit Symphony Orchestra, Ann Arbor Blues and Jazz Festival, WEMU, and club and numerous club dates, the band has established a strong presence in south east Michigan's diverse musical culture. With Latin dance grooves to make you move, get ready to salsa the night away with this talented group.

Performing since: 1999 — wow, already 10 years! Home base: Detroit area. We are from all over. Style of music: Salsa and Latin jazz. Influences include Poncho Sanchez, Tito Puente and Mongo Santamaria. Members: Jason "El Gordo" Loiselle, congas; Clinton "El Sabón" Sabon, timbales; Nathan Montgomery, bass; Roberto "El mitón" Mervak, piano; Marco "El Guapo" Byerly, trumpet; Jimmy "Rubber Lips" Smith, trumpet; Ben Jansson, sax. Pre-show ritual: We pray to the Salsa gods that horn lips would be strong, drum hands would be like hard mallets and dancin' feet would move! Favorite road food: Whenever we are playing a show in South Dakota, Montana, or Wyoming, we will always stop in at Taco John's. The great thing about Taco John's as road food is that, unlike most tacos, theirs hold together reasonably well and are easy to eat with one hand. They're also satisfying but not massive, meaning you can eat a couple over 50-100 miles without gorging yourself. Desert island disc: Poncho Sanchez "Conga Blue", Art Blakey and the Jazz Messengers "Moanin'", Horace Silver "Cape Verdean Blues" Best thing about Ann Arbor: We love the Prickly Pear but love even more the reception we get when we come to Ann Arbor. We feel Ann Arbor really gets our music and has a lot of fun! Genre: Latin, dance, world, jazz, festival debut

More info: Website
Listen to Saoco "Sky Dive" (MP3).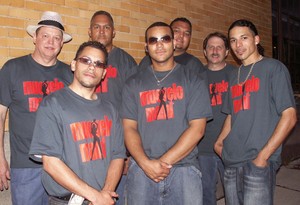 Orquestra Sensacional Rackham Stage, 8:30 p.m.
Orquesta Sensacional blends youth and experience to create the ultimate joy that Latin music lovers have come to expect and demand. The band's music is formatted from what is the current trend in the Dominican Republic, Puerto Rico and Cuba. This is definitely the new school in Latin music, where the vibe is dance, dance, and more dance.

Performing since: 1999 Home base: Detroit Style of music: Latin Members: Kerry Lundquist, German "Pito" Ortiz, Pablo Ovalles, James "Palito" Rodriguez, Santos Rodriguez, Xavier Rosario. Pre-show ritual: The band enjoys a light meal together. Favorite road food: Chuletas Asado a la Parrilla Best thing about Ann Arbor: University of Michigan and Summer Festival/Top of the Park

More info: MySpace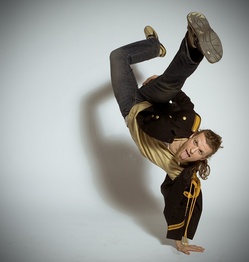 DJ Nick Ayers The Grove, 10:30 p.m.
A turntablist and crate digger for 14 years, Nick started his musical production career creating Drum'n'bass and Ghettotech/Booty in the group Pilots of Consiousness. After the vinyl release of "Welcome to the Higher Level" in 2000, he then pursued a degree in audio engineering. While receiving a certificate from the Recording Workshop in Chillicothe, Ohio, Nick recorded an album with the Michigan-based soul group The Feel Goods. He then studied percussion in São Paulo, Brazil with Don Pandeiro, who has over 60 years of rhythm in his blood. Nick returned to the states to be the head rhythm keeper and master of ceremonies for the premier funk squad, The Naughty Drop. He is a constant student of rhythms, movement and global music culture. A multi-instrumentalist, Nick produces music in many types of genres. After three years of teaching music technology, breakdancing and turntablism to high schoolers at the Neutral Zone in Ann Arbor, Nick now tours and records with the Macpodz.

Performing since: 1996 Home base: Ann Arbor Style of music: Eclectic Members: Nick Ayers, AKA Silky Slim, AKA Beatnick Pre-show ritual: 50 high kicks and 50 push ups, or a nap Favorite road food: Sushi Desert island disc: DJ Poska "Funk Therapy" Best thing about Ann Arbor: A small town vibe with a big city, open-minded arts community Genre: Brazilian, Calypso, Latin, DJ mix

More info: Website