Posted on
Thu, Nov 17, 2011 : 1:05 p.m.
U-M School of Social Work celebrates 90th anniversary by commissioning cantata
By Susan Isaacs Nisbett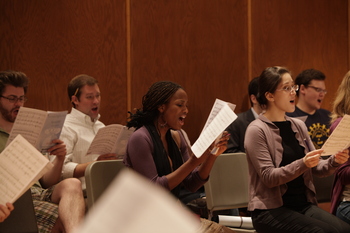 photo courtesy of the University of Michigan School of Social Work
Grand gestures are appropriate for grand occasions, but institutions usually reserve them for anniversaries with numbers like 50, 75 or 100. Not the University of Michigan School of Social Work.
For its 90th anniversary, which it celebrates this weekend, the School of Social Work did something most unusual: With the help of a devoted alumna and her U-M alumnus spouse, it commissioned a cantata. The new piece of music, some 35 minutes long, will be unveiled Friday evening at the Stamps Auditorium on the U-M North Campus, when it receives a performance by the U-M Chamber Choir, directed by Jerry Blackstone. The concert is free and open to the general public.
The gesture is out of the ordinary, to be sure. "Extremely unusual" is how the cantata's composer, Bruce Adolphe, characterizes it. But, he noted, in a video interview with School of Social Work Professor John Tropman, "it sets a great precedent" to have a school that is not directly involved with the arts commission a new work. "It's enlivening and enriching" for everyone, he said.
PREVIEW
'Reach Out, Raise Hope, Change Society'
Who: University of Michigan Chamber Choir.
What: Premiere of Bruce Adolphe's cantata in 10 movements, commissioned by the U-M School of Social Work for its 90th anniversary.
Where: Walgreen Drama Center, Stamps Auditorium, 1226 Murfin Ave., U-M North Campus.
When: Friday, 7 p.m.; Sunday, 7 p.m. Sunday performance also includes Poulenc's "Sept Chansons" and Hovland's "Missa Misericordia."
How much: Both performances are free and open to the public.
But the cantata is unusual in other ways as well. Historically, it's more common for such pieces of music to be connected to religious observance. Even when they are secular, not many are specifically connected to ideas of social justice or social action. But social justice is precisely the focus of the School of Social Work cantata.
Indeed, the work's title, "Reach Out, Raise Hope, Change Society," is the school's motto. Adolphe used the motto as text for the first and last movements of the work, as well as for an instrumental interlude that comes halfway through its 10 sections. The work is scored for chorus, winds and percussion. Adolphe chose the remaining texts, which all relate to social action, from a broad variety of sources, from rabbis to Native American chiefs, from Indian proverbs to essays on slavery and civil rights.
The work is a collaboration between the School of Social Work; School of Music, Theatre & Dance; and the University Musical Society, but its genesis involves a Social Work alumna, Joan Fisch, who is also a music aficionado and, more particularly, an aficionado of Adolphe's work.
Adolphe, whose compositions in many genres have been performed by major musical organizations around the globe, has a multifaceted career in music. He is he resident lecturer of Lincoln Center's Chamber Music Society; founding creative director of The Learning Maestros; and comic keyboard quiz-master of National Public Radio's weekly radio program Piano Puzzlers.
Fisch, along with her husband, Allan, also a U-M graduate (LS&A) provided fund for the commission.
"My motivation for suggesting a commission," explained Fisch, "is that music is one way that we express ourselves, that we share experiences with others." "Music can be healing, celebratory, and bring people together."
Certainly the work has brought together students and colleagues from the School of Music and from Social Work.
"It's been fascinating, a wonderful collaboration," said Grammy Award-winning Chamber Choir conductor Blackstone. "Here we have a new piece, an extended piece, that came out of the blue from across campus, that we did not initiate."
Blackstone describes the piece as artfully set, very tonal, and very rhythmic. And even though it is a "piece d'occasion," commissioned for a specific anniversary, Blackstone thinks that, with its meditations on social justice, it could well enjoy a life well beyond the School of Social Work's 90th year.
It has an immediate life after Friday's performance: The work has a second airing Sunday at Stamps Auditorium under School of Music auspices, at a concert with two wonderful bonus works, Poulenc's "Sept Chansons" and Hovland's "Missa Misericordia." That concert, like Friday's, is free and open to the public.