Posted on
Mon, Mar 18, 2013 : 5:59 a.m.
New career retrospective to help Ann Arbor music icon Scott Morgan
By Kevin Ransom
It would be a major understatement to say that the last year or so has been a difficult and challenging time for
Scott Morgan
—because, during that period, he's had to deal with one medical problem after another, including two very serious conditions.
But Morgan—the veteran, influential Ann Arbor rock-and-soul singer/songwriter/guitarist—is so respected, so well-liked, and has built up so much good will over the decades, that he has many friends, both here and abroad, who have stepped up to help.
Morgan—who first attained regional fame in the 1960s as the singer / frontman for the iconic Ann Arbor rocking-soul band the Rationals—was diagnosed in December of 2011 with liver disease and ascities (an accumulation of fluid in the peritoneal cavity).
Health issues
So, for more than a year, he's been undergoing tests, receiving treatments—including a shunt procedure—and taking medication for those conditions. He also discovered he'd lost his singing voice. Then, he developed an umbilical hernia, which required surgery to repair. And on top of all that, last month, doctors found a cancerous tumor in his stomach. That tumor was surgically removed on Feb. 24, so now he's recovering from that procedure as well.
Due to all these medical travails—and Morgan being in and out of the hospital for tests, procedures and treatments—it's now been more than a year since he's been able to make records or do live shows, which is how he made his living for the previous 45 years.
So, in the spring and summer of 2012, many of his friends staged a couple of benefit concerts to raise funds to help him pay his medical bills and other expenses. But the latest benefit effort on his behalf is probably the most impressive: Today, the English record label Easy Action is releasing a 3-CD Morgan box set, "Three Chords and a Cloud of Dust," which compiles tracks from throughout Morgan's long career as a rock 'n' roll stalwart and a mainstay of the Michigan music scene.
All of the profits from the sale of the box set are going directly to Morgan, to help him meet his expenses until he's able to start recording / performing again.
A box set
Carlton Sandercock, president of Easy Action, has known Morgan since the mid-2000s: Easy Action is the label that put together the 2006 Sonic's Rendezvous Band box set. (In that incendiary '70s-era group, Morgan joined forces with Fred "Sonic" Smith of the MC5, Scott Asheton of the Stooges and Gary Rasmussen of the Up.)
And Geoff Ginsberg, Morgan's former manager, notes that if fans order the box set directly from Easy Action, via its website, "that means more of the money goes to Scott, because there's no middle man involved."
Morgan has always been interested in finding new contexts for his musical instincts—and in working with new collaborators. So, he has led, or been a member of, many bands over the years—from the Rationals and Guardian Angel to Sonic's Rendezvous Band, Dodge Main and Powertrane to the Scott Morgan Band, The Solution, the Hydromatics and more. And since the new 62-track box set spans 45 years, it features songs from each of those bands—including 20 previously unreleased tracks and five more that have never before been issued on CD.
That also means that the box is filled with many of his musical hook-ups with Michigan rock heroes—like Smith and Wayne Kramer of the MC5, Ron and Scott Asheton of the Stooges, Deniz Tek of Radio Birdman and Rasmussen.
As such, it's a sprawling, impressive overview of an artist who is one of the most important figures in the history of Michigan rock 'n' roll, even if he never attained the national recognition of Michigan rock brethren like Bob Seger, the MC5, the Stooges, the White Stripes, etc.
When Morgan first sat down and listened to the new box set, he was a bit knocked out by the magnitude of that sprawl. "You'd be surprised how fast 45 years goes by," he says with a laugh. "But I'm really happy with it. There was already the Sonic's box, and the 'Think Rational!' anthology (2009), but I'd always wanted to do a big compilation like this that would cover the whole period that I've been making music, from basically 1965 up until my latest record ("Scott Morgan," from 2010)."
Although the box set reaches back to his teens, and chronicles so many bygone musical eras, he says that listening back to all of those songs did not cause him to feel nostalgiac, "because, a lot of these tunes have been in my live sets, on and off, for many years. I've recorded more songs than I could possibly do in one show."
And after such a long career, and laying so many songs to tape, it's understandable that he doesn't recall recording some of the older tracks in the box set, especially the previously unreleased ones, like the Guardian Angel songs from the early 1970s. "Yeah, I don't remember too much about recording those," he says. "But that was not long after the Rationals broke up, so we were doing that similar style of rocking-soul."
Sandercock says that releasing the box set as a benefit—meaning, no profits for his label—is "one of the few things I felt I could do to raise some funds to help Scott. His albums have been woefully undervalued and unappreciated by the public at large outside of Michigan. He has written and recorded some brilliant music.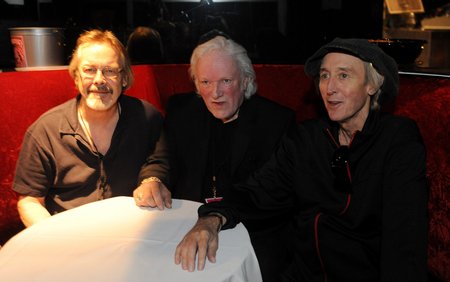 Angela J. Cesere | AnnArbor.com file photo
"So when I heard about Scott's situation, it was literally a case of us dropping all other projects and get this one going," adds Sandercock. "We're only a tiny company, so this sort of thing isn't something we tend to do a lot."
Ginsberg, who besides being Morgan's onetime manager is also the head of Real O Mind records, played a big role in helping to pull the box set together after a mutual friend put him and Sandercock together.
"We got on the phone, immediately hit it off, and I said, 'Whatever it is, I'm in,'" says Ginsberg. "We bounced ideas off each other, and it wasn't clear at first what would be available to use."
Initially, the the idea was to do a single-CD compilation. "But Carlton egged me on every step of the way, until we decided to do a 3-CD set, and to attempt to get material from every one of Scott's releases. Unbelievably, with 45 years worth of labels, musicians and publishers to contact, we succeeded."
And it was Ginsberg who helped track down most of the previously unreleased songs. Morgan has always had eclectic tastes—he started out being influenced by the British Invasion bands, and then he and the other Rationals were turned on to southern soul by the group's manager, Jeep Holland. In the ensuing years, he also showed his affinity fo hard-rock and punk, cranking out lean, tough-minded rock 'n' roll with the SRB, Dodge Main, Powertrane, etc. And the box puts all of those sides of his musical personality on display.
The tracks
Some of the early-era, previously unreleased tracks include:
• Three Guardian Angel tracks—funky-soul numbers "Cool Breeze" and covers of "Let's Work Together" and "Things Get Better," from 1971-'72. (Plus, there's a Guardian Angel live cover of "Hijackin' Love" that's never been issued on CD.) Coming soon after the Rationals' 1970 break-up, these tracks have much of the scrappy, rangy, rocking-soul feel that was the Rationals' trademark, with Morgan's gritty, pleading voice right up front, and stinging guitar work from Jeff Jones.
• Two Sonic's Rendezvous tracks, "Mystically Yours," from a 1976 basement-tape session, and the live "Power and Glory," from 1980. The former is propulsive workout that rocks with abandon, with bristling guitar interplay between Smith and Morgan and a strafing, rippling solo by Smith. The latter commences in more languid and brooding fashion, with a Velvet Underground-type vibe, before giving itself over to slashing power chords.
• Two 1981 demos by Scott Morgan & Brothers of the Road—"Love and Learn" and "Pirate Music."
• Three solo-Morgan demos or basement-tape recordings from 1982-'85—"Gypsy Dancer, "Come On Baby" and "She's Wild."
Among the tracks never issued before now on CD, two highlights are solo-Morgan singles from 1973—"Take a Look" and "Soul Mover. " The first is swaggering but seductive, moving to a syncopated groove and shifting time signatures, while the second is a ragged-but-right Faces-style romp, propelled by an insinuating guitar riff and rollicking roadhouse piano.
Previously unreleased tracks from later eras include newer versions of songs that were big-deal releases around here in the '60s and '70s, like the Motor Jam's '97 acoustic take on Sonic Rendezvous's "City Slang," and '98 live performances of Otis Redding's "Respect" and Holland-Dozier-Holland's "Leavin' Here"—which the Rationals turned into big regional hits in the '60s—by Morgan, backed by the band Fortune & Maltese.
"I remember at the time thinking that it didn't make much sense to do an acoustic version of 'City Slang,' because it was such a high-energy, Detroit rock 'n' roll song," says Morgan. That song was also the only official studio recording the SRB released—which remains a source of bafflement to many Detroit-area rock fans, given what a ferocious live band they were. (The box set includes live shows, rehearsal tapes, and studio demos.)
Morgan is proud of SRB's legacy—"I think being part of that band is one of the most important things I've ever done," he says. But, "I do wish we'd made an album. But Fred never found the right label, or an offer that was satisfying to him. But, we did record a lot of those SRB songs on the first couple of Hydromatics albums, plus, the SRB box collected so many great live performances."
Other tracks on the new box not released until now include "Endless Summer," a solo-Morgan cut from '99; a 2000 alternate version of Morgan's "Satisfier"; an '04 live performance of "Would You Change Your Mind" by The Solution; an '08 demo of Seger's classic "2+2=?" by Powertrane; and "The Wind," a solo-Morgan track from '10.
The future
Although each of Morgan's many bands created its own unique brand of rock and / or soul, Morgan can hear a connection between those groups. And the connective tissue, of course, is him. "I can hear the connection in my vocals, and in my songwriting style," he says. "I've obviously done a lot of rock 'n' roll, but we got so much into soul music in the Rationals that, ever since, I never gotten too far away from soul."
As for his health situation, Morgan says it appears that he will not have to undergo any chemotherapy or radiation treatments following the stomach-cancer surgery: "The tumor was smaller than they thought, about the size of a silver dollar, so they just took a corner of my stomach out."
And he went to throat specialists after he lost his singing voice, but "they said they couldn't find anything physically wrong with it, that my muscles were weak, from not using it—from not singing. They gave me some vocal exercises to do, and I was getting ready to start doing those then we discovered the cancer, and I had to have that surgery. So I'll start doing those soon."
Morgan is determined not to have to get a liver transplant if at all possible. "The shunt and my medications (including diuretics and anti-bacterial drugs) are treating it fine so far, and I'm not smoking or drinking," he notes. "And a liver transplant is a huge deal, and very invasive, and comes with a lot of baggage."
And while his first priority is obviously his health, and, specifically, the continued successful treatment of the liver disease, the prospect of performing and recording again is definitely on his radar. "Once I've completely recovered from these surgeries, and I get my voice back, I want to start singing again. I just don't know yet whether that will be a matter of weeks, or months."
Meanwhile, there are more anthology releases to come.
"The interesting thing about putting this project together is that there are now some new spin-offs that we're looking to release," says Sandercock—"for example, a Hydromatics set, a Guardian Angel album with Jeff Jones, and the re-issue of Scott's three albums from the '80's and '90's. And Geoff is looking at an expanded rarities album."
That all sounds fine to Morgan. "Yeah, this box is a great sampler, but since I've been making records for 45 years, there are a lot of things they had to leave out," he says. "So, there's a lot of music in the vaults that we can still get out there. Me, I'd like to see all of it released."
For more on Scott Morgan and his music, check out his website, www.scottmorganmusic.com.
Kevin Ransom previously wrote about Scott Morgan, and the Rationals, for AnnArbor.com in 2009 and 2012. He can be reached at KevinRansom10@aol.com