'Scream 4' has slow weekend at the box office
Posted on Mon, May 2, 2011 : 11:47 a.m.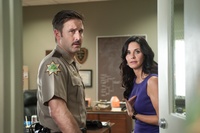 In its third weekend in release, locally filmed "Scream 4" added just $2.1 million to its take at the box office, a drop of 69 percent from the previous weekend.
The Box Office Mojo website lists "Scream 4" in 13th place for the weekend, a drop from fifth place last week. It came in second in its debut weekend, behind the animated "Rio."
The total box office take for "Scream 4" is now $35.4 million. Its budget is estimated at $40 million.
"Scream 4," the most recent entry in the popular tongue-in-cheek horror franchise, was shot in the Ann Arbor area and other nearby communities last summer.