with poll:

'Scream 4' midnight screening draws young, satisfied crowd to Rave

Posted on Fri, Apr 15, 2011 : 5:55 a.m.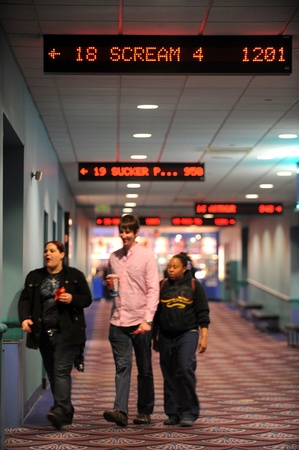 Photo by Angela J. Cesere | AnnArbor.com
April 15 — normally the deadline for taxes — is a day often associated with dread and apprehension; but this year, it also marks the release date of Wes Craven's much-anticipated, locally shot horror film, "Scream 4." And given the series' wry sense of humor, and acute cultural awareness, the uncanny timing is probably no accident.
On Thursday night, as the first minutes of April 15 approached, well over 100 patrons flocked to Rave Motion Pictures (formerly Showcase Cinemas) on Carpenter Road to be among the very first to see the latest "Scream."
There was a celebratory, laid-back party atmosphere in the generally young crowd. Before the theater went dark, one man stood up and announced to the audience that his friend, Earl Barr, who was seated next to him, had been part of the filming — which drew supportive cheers and applause.
"Wes Craven picked me out of 3,300 people," said Barr, who played a janitor at Woodsboro High School in the film.
An Ann Arbor resident who previously worked in the auto industry, Barr noted that he's been involved in the filming of 8 movies in the past three years, including "Real Steel" and "The Ides of March." (Barr is also booked for work in "The Five Year Engagement," which will shoot in the area again beginning in late May or early June.)
"Hopefully, they didn't cut me out (of 'Scream 4')," Barr said shortly before the film began.
What couldn't be cut, of course, were recognizable locations and personalities. Immediately following the movie's opening set piece, downtown Plymouth appears on the screen; two houses in the Burns Park neighborhood play a key role in the plot fairly early on; and familiar faces — like local actors Wayne David Parker and John Lepard, as well as Detroit TV news anchors Devin Scillian and Glenda Lewis — appear throughout the film.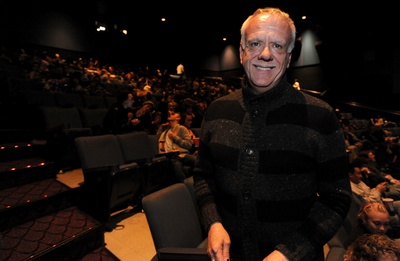 Angela J. Cesere | AnnArbor.com
The film begins 10 years after the events of "Scream 3." Sidney (Neve Campbell) has published an inspiring, bestselling memoir; Dewey (David Arquette) has become the sheriff of Woodsboro; and Gale (Courteney Cox) is struggling to stay recognizable and relevant, having left reporting behind to marry Dewey.
When Sidney returns to her hometown of Woodsboro while on a book tour, on the anniversary of the original murders, a killer sporting a Ghostface mask launches yet another series of gruesome homicides.
The midnight screening crowd at Rave seemed to enjoy the film, laughing often and breaking out in hearty applause at the climax, near the movie's end.
"I thought it was really good," said Ann Arbor's Darnell Forte, 19, a Huron High grad ('09) who previously worked as an extra on "Jumper." "I was really impressed. I think the fans won't be disappointed. The plot was very cohesive, it was well-written, and I think it was a worthy sequel. It seemed they really thought about, 'If we're going to make a fourth movie, we've got to make it worth making.'"
Meanwhile, three students — Brittney Braxton (U-M), Tianna Sharp (EMU), and Yilan Zhang (U-M) — attended the screening as part of a 10-person group of friends, and they were also satisfied with the humor and scariness of "Scream 4."
"I really want to go back and re-watch (the original 'Scream' movies) now," said Braxton.
Yet because of the self-aware, "meta" quality of the series, which lampoons a seven-part horror film series that uses the Woodsboro murders as a basis, the students couldn't help but be reminded of a broader horror movie parody, "Scary Movie," while watching "Scream 4."
"I thought, 'They are going to so make fun of this, if they make a new one,'" said Sharp.
Though the three were too engrossed in "Scream 4"'s story to seek out signs of Ann Arbor and its environs, Zhang succinctly summed up her favorite parts: "The first 5 minutes and the last 5 minutes were really great."
Vote in our poll: