Posted on
Thu, Oct 21, 2010 : 11:56 a.m.
Robert McDuffie, Venice Baroque Orchestra explore 'The Four Seasons' - old and new
By Susan Isaacs Nisbett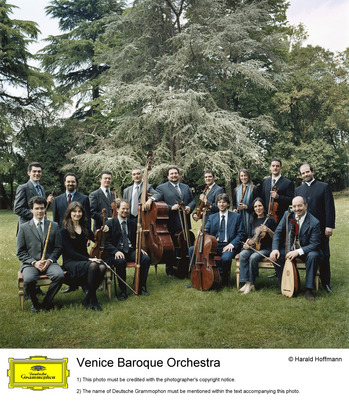 photo by Harold Hoffman
Violinist Robert McDuffie had a dream. So, as he tells it, he took a chance and took his dream down to composer Philip Glass's home in the East Village and sort of said something like, "I hope you don't mind, but I'm calling you America's Vivaldi."
"He was really cute about it," McDuffie said in a recent phone conversation about their meeting some seven years ago, in which McDuffie, who had worked with Glass before and played and recorded the minimalist composer's 1987 Violin Concerto No. 1, proposed that Glass write a new concerto for him, an American "Four Seasons "
"He liked the idea from the minute I mentioned it," McDuffie said from his home in Macon, Ga, where he works with the Robert McDuffie Center for Strings at Mercer University.
Liking and writing are two different things, though, and it was a while before Glass turned his attention to the project. McDuffie finally got his "Violin Concerto No. 2: "The American Four Seasons," last year, premiering it with the Toronto Symphony in December. The recording has just been issued (on the Orange Mountain Music label), and now McDuffie is realizing another dream: taking the concerto on a swing through America, along with the Vivaldi "Four Seasons."
PREVIEW
'The Seasons Project'
Who: The Venice Baroque Orchestra, with Robert McDuffie, violin.
What: Vivaldi's "The Four Seasons" and Philip Glass's "The American Four Seasons."
Where: Hill Auditorium, 825 N. University Ave.
When: Wednesday, Oct. 27, 8 p.m.
How much: $10-$60. Tickets available from the UMS Ticket Office in the Michigan League, by phone at 734-764-2538, and online at ums.org.
As the website for the Southern-born McDuffie states, the tour is probably coming to a city near you. Like Ann Arbor, for instance, where McDuffie and the Venice Baroque Orchestra join forces Wednesday at Hill Auditorium, under University Musical Society auspices, for eight seasons-worth of music from two centuries.
"I'm in love with his music," said McDuffie about Philip Glass in a phone call earlier this month before beginning his U.S. tour of "The Seasons Project." "And I have great affection for the Vivaldi. It's great to play a new work by a master like Philip Glass and put it together with that affection. I feel like I've been sitting on a goldmine for a year since he got the piece to me."
Here's what McDuffie had to say in response to some questions about his "Seasons" project and the program.
Q. What is it that makes you think of Philip Glass as "America's Vivaldi"?
A. I think they have similar structures in the repetitive ostinatos in the bass and the beautiful melodies up top. And there's a little show biz in my comparison, I'll be the first to say it. They may have the same parameters and structures, but there's a separate DNA that identifies their separate genius.
Q. Were you ever worried the project wouldn't happen?
A. He said, "Let's go for it," and then seven years later he wrote it. There was definitely a time lag, but I knew he was going to do it. It was a real team effort. Philip writing, me encouraging him to write it, and Tim Fox, my manager at Columbia Artists, selling it, taking a lot of time to talk it up. It generated a lot of interest — you know, "much-anticipated," "long-awaited" — so in a way, waiting for it to be written was positive on the career front. It gave us a lot of time to really explain what was really going on and to pitch it and sell it.
Q. How much input did you have musically?
A. I suggested a few bullet points, and he delivered on all of them. I asked for the same orchestration (as the Vivaldi), replacing harpsichord with synthesizer to tap into the Philip Glass rock-and-roll sound from the Philip Glass Ensemble that turned David Bowie on. I asked for four large movements, to represent each season, which he provided. Instead of a slow, soft ending, which he is known for, I asked for a rocking-out, kick-ass ending, excuse my language, and he certainly delivered there. And he gave me a gift: Instead of typical solo cadenzas, he wrote out four songs to introduce each season. He shaped them so they can form one 10-minute solo piece that you can extract. The whole piece is 40 minutes with no break, and it does have exactly what I asked for.
Q. Did it have any surprises?
A. I knew the music would be beautiful and lyrical, but I didn't know it would be achingly beautiful. It's so beautiful that it's almost scary. That's why I know that I've been so antsy to take this thing on the road.
Q. Anything other surprises?
A. We did disagree what was "Summer" and what was "Winter." So in the end, he declined to name the seasons, and we're leaving it up to the audience to decide. I think that's great. It doesn't dictate a programmatic agenda — and the piece stands on its own. There's a general nod to Vivaldi, but it is a Philip Glass work through and through. There are no Vivaldi quotes. In our initial discussion, in the early 2000s, we were even talking about texts, but at the end of the day, what you have is simply a major work by a major composer.
Q. Do you have any idea whether most people concur about hearing a particular season in a particular movement? I see that you've been having an online poll on the matter.
A. I don't know whether people agree. When I've played it, it was just that my "Winter" was his "Summer." But there's no right answer.
Q. This tour is the first with both the Vivaldi and the Glass together. What do you do about the instrument you play in each piece? I know the orchestra is switching from period instruments to modern-day ones.
A. I'll keep my Macon, Ga., approach on my Guarneri del Jesu for both. The Venice Baroque is the best Vivaldi orchestra on the planet. I've already done the Vivaldi with them in Europe, and it's a privilege to learn and be guided by them. And they may feel the same way on the Glass. I did "The American Four Seasons" with them at my festival in Italy this June, and it was a collaborative learning experience. That's another reason why I'm excited.
Q. What's the order of the program?
A. Vivaldi first and Glass second.
Q. What have you been learning as you've become more familiar with the Glass?
A. I instantly knew, when I heard the MIDI score, that even with no humanity or soul, I was in love with the piece, the shifting harmonies and rhythms. (In playing it), it's not easy to sustain lyrical double stops up in the stratosphere. The first movement is difficult, but once it's locked in, it works. It's 40 minutes of non-stop playing, so it's an endurance test. The Vivaldi is as well, you know. I wouldn't want it any other way.
Watch an interview and excerpts from "The American Four Seasons" below, and listen and give your thoughts on naming the movements of "The American Four Seaons" at www.americanfourseasons.com/.