Posted on
Sun, Jun 10, 2012 : 3:38 p.m.
See 'La Boheme' at the Mendelssohn; learn to smell your way to creativity
By Ann Dwyer
FILM
The "EMU Campus Life Summer Film Series" continues at the Student Center Auditorium on the EMU campus on Tuesday. 6 p.m. This week, see Tyler Perry's "Good Deeds" (PG-13). Businessman Wesley Deeds is jolted out of his scripted life when he meets Lindsey, a single mother who works on the cleaning crew in his office building. Free and open to the public. The SCA is at 900 Oakwood St., Ypsilanti. 734-487-1157.
FILM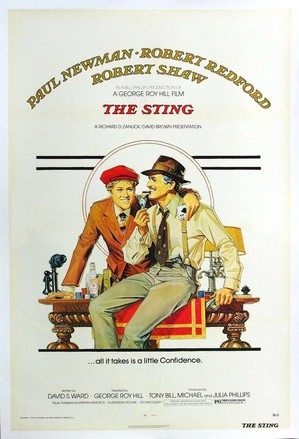 Courtesy photo
The Michigan Theater brings back the best with their "Summer Classic Film Series" on Tuesday. 7 p.m. Paul Newman and Robert Redford team up in "The Sting" to con a fortune from a criminal banker in1930s Chicago. General admission: $10. Students, seniors: $8. Michigan Theater members: $7.50. The Michigan is at 603 E. Liberty St., Ann Arbor. 734-668-8397.
www.michtheater.org
ETC.
Head to the Ann Arbor District Library for "Smell & Tell: Using Your Sense Of Smell For Creative Inspiration" on Wednesday. 6:30-8:45 p.m. This workshop is perfect for food lovers and writers who are interested in smell. Be prepared to smell a few natural ingredients and learn how to use a "smell map" to train your nose and improve your sensory vocabulary. If you have time beforehand take the sensory questionnaire and bring your results to the event. Find it here: www.scribd.com/doc/39756059/Sensory-Questionnaire-GPS. Free. The AADL is at 343 S. Fifth Ave., Ann Arbor. 734-327-4200.
THEATER
The Arbor Opera Theater will present "La Boheme" at the Lydia Mendelssohn Theatre. Thursday, Friday and Saturday at 7:30p.m. Sunday at 2 p.m. Set in 1840's Paris, La Boheme portrays the challenges of living life on the edge, particularly for Mimi and Rodolfo, whose initial passion is stifled by their impoverished existence. $22-55. Tickets are available through the Michigan Union ticket office, 734-763-8587 or online at www.arboropera.com/laboheme.html. The theatre is in the Michigan League at 911 N. University Ave., Ann Arbor. 734-763-3333.