Posted on
Fri, May 31, 2013 : 10:47 a.m.
See 'Room 237' at the AADL to learn about possible meanings of Kubrick's 'The Shining'
By Ann Dwyer
Did you know that Stanley Kubrick, who is Jewish, was married to the niece of Veit Harlan, one of Nazi Germany's biggest propaganda filmmakers? It's one of the many reasons that people think Kubrick's film "The Shining" nods at the Holocaust. Many have also seen connections to the genocide of Native Americans, the Holocaust and the Apollo 11 moon landing.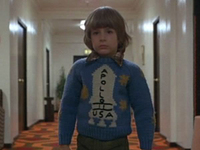 Learn more about the supposed symbols and nods at the
exclusive Ann Arbor screening of "Room 237,"
the new documentary about the horror classic "The Shining" at the Ann Arbor District Library main branch.
The film will be introduced by "Shining" expert Geoffrey Cocks, who is also prominently featured in in the documentary.
You'll be surprised at some of the minor layers you have missed, especially if you were watching the movie between your fingers.
6 p.m. June 6 at the Ann Arbor District Library, 343 S. Fifth Ave. Free admission.