Posted on
Tue, Jan 29, 2013 : 9:17 a.m.
See the experimental films of Jean Painleve paired with the music of Yo La Tengo at the Ann Arbor Art Center
By Ann Dwyer
Experimental French filmmaker Jean Painleve documented the underwater lives of sea creatures in a body of work that spanned more than 30 years. The Ann Arbor Art Center will screen several of these films during Sea of Love: A Night of Jean Painleve's Films and the Sounds of Yo La Tengo on Friday.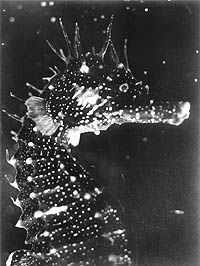 Inspired by Painleve's works such as
The Love Life of the Octopus
and
The Seahorse
, the band Yo La Tengo created a soundtrack to heighten the the director's mesmerizing and revelatory views under the water.
Lauren Fretz, Director of Programs at the Ann Arbor Art Center, will discuss Painleve's legacy and show several films with the soundtrack by Yo La Tengo. The band will be performing live at the Michigan Theater on Feb. 8.
Friday, Feb. 1, 2013. 6:30-7:30 p.m. Pay what you want. The AAAC is located at 117 W. Liberty St., Ann Arbor. 734-994-8004 x101.