Posted on
Sun, Dec 16, 2012 : 5:38 a.m.
See the 'Nutcracker Ballet' live and hear Christmas the cowboy way today
By Ann Dwyer
FILM
The Free Holiday Classic Film Series continues at the Michigan Theater with the perennial favorite, "Miracle on 34th Street." 1:30 p.m. The film that proves that Santa is undeniably real and Natalie Wood was always awesome. Free. 603 E. Liberty St., Ann Arbor. 734-668-8397.
DANCE
The Ann Arbor Ballet Theatre will give the season's last production of the "Nutcracker Ballet" at the Power Center today. 2 p.m. It isn't Christmas until a rat attacks a toy nutcracker in this sugar-fueled fever dream of a ballet. $25/Adults; $20/Students and seniors. $15/Children under 12. Tickets available at the UM Ticket Office or by calling 734-763-TKTS. 121 Fletcher St., Ann Arbor. 734-763-3333.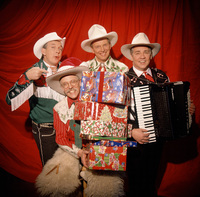 MUSIC
What is Christmas the cowboy way? Let Riders in the Sky show you the way at The Ark. 7:30 p.m. Tired of traditional carols or "rocking" covers of Christmas songs that were terrible the first time around? Then get a down-home feel for the holiday when Ranger Doug returns with his bandmates. $25. 316 S. Main St., Ann Arbor. 734-761-1800.
HOLIDAY
Enjoy "An Old Fashoined Christmas Extravaganza Show And Sale" at the Washtenaw Farm Council Grounds. 11 a.m.-5 p.m. Shop for gifts, take in a heartwarming Charles Dickens-style play, see funny skits or listen to Christmas Carolers singing through out the event. Be a part of the Charity Auction in which all profits will go to help injured soldiers and their families. $10/Adults; $8/Seniors and students. $3 off admission when two or more cans of food are donated. 5055 Ann Arbor-Saline Road, Ann Arbor. 734-429-3145.
OUTDOORS
Warm up at "Fireside Fun: A Good Ol' Fashioned Campfire Circle" at the Leslie Science and Nature Center. 6:30-8 p.m. Bring the kids and the s'mores fixins' (don't worry about the marshmallows though, they've got those covered) and roast your chestnuts over an open fire (chestnuts NOT provided). Free. No registration required. 1831 Traver Road, Ann Arbor. 734-997-1553.