Posted on
Tue, Jan 8, 2013 : 5:08 a.m.
Seth Glier talks about finding new grounding, new direction ahead of Ark show
By Kevin Ransom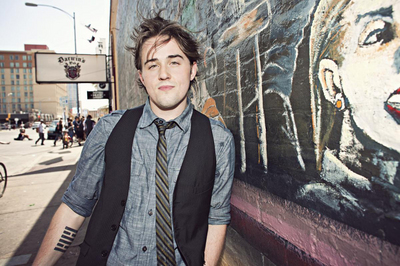 In many ways, the career of singer-songwriter
Seth Glier
embodies the the show-biz notion of "growing up in public." Now 24, he's been a recording artist / touring musician since he was just 16. Since 2004, he's released four albums and two EPs, and for a long, five-year stretch, he was performing a grueling 250 dates per year.
But now, he says, he's "settling down"—he cut back to a more manageable touring schedule of 120 shows last year, and he describes his new album, "Things I Should Let You Know"—slated for Jan. 15 release—as "a reckoning with adulthood." "I think this is a more personal record for me," says Glier, who comes to The Ark on Friday. "A lot of the songs are about choices, and taking responsibility for your choices. I guess the feeling I want people to walk away from this album with is how precious every moment and every decision is.
"I'm just 24, but this is the first time I've really settled down and let the moss to grow a bit, in a good way. For those five years, my whole life was about touring, and getting from Point A to Point B, and lot of my songs were about traveling and being on the move. Now, I've moved into a new apartment here (in South Hadley, Mass., near Northhampton), and am nesting a bit, and that's helped me change the way I see the world and react to it," says Glier by phone.
"I remember reading a quote from Carol Burnett—she said that if all she ever did was act, she would have no characters to become—that she also had to live a life. I had to find those bounds, and learn how to deepen my well of experiences, and I found that life for me had to be less about going out and getting lost, and more about coming home and being found."
PREVIEW
Seth Glier
Who: Young, critically acclaimed, folk-rock singer-songwriter who's been touring and making records since he was 17.
What: Glier's songs range from confessional to observational to social commentary, while his music alternately draws on folk, blues, pop and rock. Also noted for his plaintive tenor vocals.
Where: The Ark, 316 S. Main St.
When: 8 p.m. Friday, Jan. 11.
How much: $15. Tickets available from The Ark box office (with no service charge); Michigan Union Ticket Office, 530 S. State St.; Herb David Guitar Studio, 302 E. Liberty St.; or online from MUTO.
Glier also said he wanted the new album to be "a transformative experience for the listener, but I knew that it couldn't be if I wasn't also being transformed along the way. Music is one of the few things left that can really help change our make-up and our framework. When I'm onstage, I want the audience to leave and feel like they can conquer anything. I don't want to forget about their problems, I want to help them to walk away and feel like they can face their problems—but I have to be just as much a participant in that as I am a director."
Given that lofty goal, it's not surprising that writing and recording the songs on the new disc was a more time-intensive endeavor than he'd bargained for. "I went into this thinking I was going to spend about a week in the studio, but I ended up working on it for 10 months," he says. "I would go out on the road, and record some things on a portable rig, like on a rooftop in San Francisco, or in the kitchen of the houses of friends I was staying with....
"The amount of time I spent dwelling on the work was exhausting on one hand, but on the other, it was exactly what I needed, because I had to figure out what the overall statement was going to be."
The album opens with the title track, a confessional song, framed by ambient, atmospheric synthesizer and harmonium. "That one was sort of about the notion of how we all have skeletons in the closet, it's just a matter of how severe they are," says Glier. "So for me, it was about looking inward and laying all of that out in the open. I'm actually still haunted by that song, and I don't know what all of it means, but I wanted to open with that ideal, of honesty, and then wanted the other songs to follow that ideal.
Another notable track, "Man I Used To Be," is also reflective and sharply frank, and driven by a foursquare beat and Ryan Hommel's chiming guitar. "That song is really about how the record company told me they didn't think I had a hit on this album, and they wanted me to try and write one, so I had to sit down and try to do that.
"I sort of felt like I was outside of myself, but I also serving a part of myself, because while I wear my songwriting badge and indie-artist badge proudly, I still want to do well—I still want to sell out Radio City Music Hall. I would love to have Bruce Springsteen's career—so I have that as a goal, but I typically don't let that goal affect what I write."
The song "Good Man," meanwhile, finds the singer sifting through the perplexities of romance, and confesses that he is surprised by his own feelings, and really may be in over his head, but still wants to do the right thing. "I wrote that one for two-and-a-half years," says Glier. "It never seemed like it was 'finished,' so I just kept writing new pieces of it, on and off, for all that time.
"New World I See" is a celebration of a new romance, set to a New Orleans R&B arrangement, complete with a blowzy brass-band section, that wouldn't sound out of place on a 1970s-'80s Randy Newman record. On the hushed and meditative "Plastic Soldiers," which was inspired by Woody Guthrie, Glier writes from the point of view of a disabled war veteran who doesn't want his son to follow his path—he has lost his legs in combat, and remembers playing with plastic soldiers as a child, and then sees his own son play with the same kind of plastic soldiers.
And throughout, as usual, Glier's ascending, winsome tenor vocals shine through.
On this record, Glier co-wrote a few songs, collaborating with the likes of Livingston Taylor and Ellis Paul. "When I decided to co-write, I made that decision with specific people in mind, friends who I knew well, and trusted. I needed some help finishing some of the songs, and Liv and Ellis knew me well enough that there were just helping to guide my own words out.
Last year, Glier's 2011 CD, "The Next Right Thing," was nominated for a Grammy Award for Best Engineered Album. When he recorded that disc, he was still living in his parents' basement.
He attended the Grammy ceremony, and while he didn't win, he remembers that "the whole day was completely surreal. It was equal parts feeling completely out of place and amazingly grateful to be there, because I thought of how many people don't ever get an opportunity to be nominated.
"I was completely amazed that I was even there," he says, before adding, with a laugh: "But getting a Grammy nomination kept my mom off my back for a while."
Kevin Ransom, a freelance writer who covers music for AnnArbor.com, can be reached at KevinRansom10@aol.com.