Posted on
Mon, Aug 5, 2013 : 10:15 a.m.
Seth Walker's rootsy musical mix coming to The Ark
By Kevin Ransom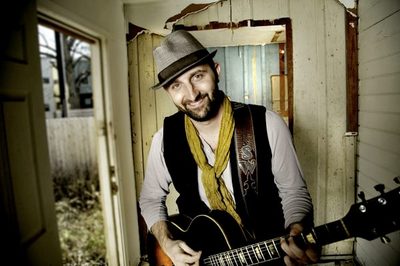 Seth Walker
began his career in Austin, Texas, and for 15 years, he lived there, drinking up the music of that city's fertile roots-rock / blues scene. But for the last few years, he's been a man on the move, both geographically and musically.
About three years ago, he moved from Austin to Nashville, and then last year, he released "Time Can Change," which was a departure from his previous releases, in that the music was more intimate, more spare, less produced. Then, last November, he moved again, to New Orleans, and is now at work on an EP that will be bluesier, darker and more guitar-intensive than "Time Can Change."
And after that, he has two other EPs planned, each of which will go in different musical directions—one more jazzy and swinging, the other mix of ska and New Orleans R&B.
"Yeah, after spending 15 years in Austin, I was looking for a different kind of juice, and to find some new influences," says Walker, who comes to The Ark for a solo show on Thursday. "And I got that in Nashville, working with a lot of the great songwriters there.
"But Nashville is a pretty conservative city, so after about three years there, I wanted to be somewhere that was a bit more diverse, a little more rough around the edges, and get some new inspiration," says Walker by phone from his home in New Orleans.
"And I had always loved performing in New Orleans, and I love New Orleans music. So I came down here to check it out, and my cousin lives here, so I began hanging out with her, and found I was getting a lot more local gigs here than I got in Nashville—because even though Nashville is a music-industry center, the live-music scene there isn't nearly as thriving as it is in New Orleans, or Austin."
Walker says he has "six or seven" songs written for the upcoming EP, and plans to go into the studio this month. "This one will have a rootsy-ambient sound, and will definitely feature my guitar more than 'Time Can Change.'
PREVIEW
Seth Walker
Who: Roots-music singer-songwriter-guitarist who spent 15 years in Austin before moving to Nashville in 2009 and then to New Orleans.
What: Walker's guitar style is definitely rooted in the blues, but his music also draws on jazz, R&B folk, country and swing.
Where: The Ark, 316 South Main St.
When: Thursday, Aug. 8, 8 p.m.
How much: $15. Tickets available from The Ark box office (with no service charge); Michigan Union Ticket Office, 530 S. State St. or online at https://www.vendini.com/ticket-software.html?t=tix&e=eae6149c8ca05453db84749ddf45a2e5.
"It will be a lot more open—I want listeners to be able to get more of a feel for the room," says Walker, compared to "Time Can Change," which had a tighter, more controlled sound.
"I want to hear more bleed in the mix. On most contemporary records, every instrument is isolated, so you don't hear any guitar bleeding into the vocal tracks, etc. But some of my favorite recordings are older albums by artists like Ray Charles, where they just had a couple of microphones, so you heard more bleed—which is more like what you hear when you're seeing a band live."
'Plus, 'Time Can Change' was all love songs, while these new songs are about other subjects, some of them darker. Like, I've got one, 'High Wire,' that talks about how we're all balancing on a high wire, and how that can apply to almost any situation in life."
Looking back on his decision to do a quieter, more spare-sounding record when he made "Time Can Change," Walker notes that "for a couple of years before that, I had been touring a lot by myself, just performing solo. (These days, about half of his shows are solo, and half feature a backing band.)
"And I really do enjoy doing the solo shows, so I wanted to do something that showcased that side of my music, so that, if you heard the album, it would pretty much sound like what you heard if you'd seen me live. There are other players on it, and you can hear the other instruments, but they're really quiet, so that my voice is right up front and everything else is in the background."
Walker actually started out playing classical music when he was growing up in North Carolina. "My first instruments were cello, and then bouzouki," he says. "Then I began getting into country music. Willie Nelson was some of first contemporary music I heard. And then when I discovered the electric guitar, I was mostly drawn to blues, so that's how my guitar style developed.
"And then when I became more interested in the writing aspect. I was pretty focused on trying to find that elusive lyric—I loved writers like Tom Waits and Nick Lowe, so I would always try to meld blues and soul with great songwriting. These days, the thing that is often missing in newer blues music is a great lyric."
Although Walker says he's just as influenced by jazz as he is by blues, and also loves reggae, folk, ska and swing, he doesn't mind that he's mostly been labeled as a blues artist for most of his career.
"No, that's okay, I know a lot of people need a reference point, and I am a blues guitarist. Coming up in the Austin scene, Stevie Ray Vaughan first turned me upside down, and then I began digging deeper and getting into blues greats like T-Bone Walker, Lightin' Hopkins, Albert Collins, Gatemouth Brown—those guys were all big influences on my guitar playing."
After the upcoming EP, which he will co-produce with Oliver Wood of the Wood Brothers (the Nashville-based Americana band), Walker says he'll make another EP "that will feature more of my jazzy and swinging side, and more crooning, and Raul Malo (of the Mavericks) will do some vocals on it. I toured with the Mavericks a lot last year, and we're pretty good friends.
"And then after that, I'll do a third EP," with (venerable producer) John Porter, that will be a mix of classic New Orleans R&B and old-school Jamaican ska.
"And I want to release these three EPs about eight months apart. I like the idea of putting out an EP every eight months, as opposed to the industry's previous model, where you put out a full album every two or three years. I think that makes more sense now, given the way the industry has changed, with things being so much more immediate."
Kevin Ransom is a free-lance writer who covers music for AnnArbor.com. He can be reached at KevinRansom10@aol.com.