Posted on
Thu, Jan 24, 2013 : 11:47 a.m.
Sewing expert and blogger 'Gertie' Hirsch to offer her expertise at the Ann Arbor District Library
By Ann Dwyer
Her name is Gretchen Hirsch, but you might know her as "Gertie" from Gertie's New Blog for Better Sewing. If you don't know her and consider your crafty (or wish you were), then you should head to the Ann Arbor District Library on Sunday to meet her.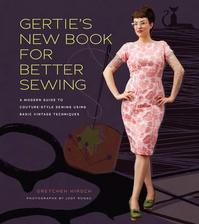 A passionate home seamstress and a sought-after sewing teacher, Gertie has become a nationally acclaimed sewing expert. She writes that her blog is "all about tutorials, tips, inspiration, and lots of spirited discussion about sewing as it relates to fashion history, pop culture, body image, and gender."
Gertie loves everything retro, and her own style reflects it—but with a modern twist. Her new book is titled Gertie's New Book for Better Sewing: A Modern Guide to Couture-Style Sewing Using Basic Vintage Techniques. In the book, Gertie offers lessons on couture techniques, customization and patterns she created.
This event includes a book signing, and books will be on sale.
Sunday, Jan. 27, 2013. 2-3:30 p.m. Free. For adults and teens grades six and up. The AADL is located at 343 S. Fifth Ave., Ann Arbor. 734-327-4555. www.aadl.org