Posted on
Sun, Jun 2, 2013 : 8:01 a.m.
Shakespeare in the Arb will make 'Much Ado' about something
By Jenn McKee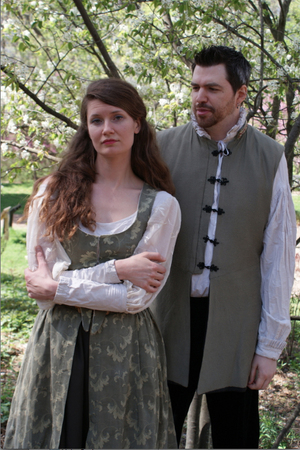 Photo by Aleah Douglas
Kate Mendeloff
, longtime director of Ann Arbor's annual, outdoor, traveling community production of a Shakespeare play—called
Shakespeare in the Arb
, which is this year presenting "Much Ado About Nothing"—had an unexpected vision a decade ago that informed her current production.
"I took a walk down to the prairie (in the Arb)," said Mendeloff. "It was in the winter, and I was suddenly falling and sliding on the ice. And while lying on my back, I thought, 'Wouldn't it be great to have a horse gallop through this big space?' The prairie offers the opportunity to have this kind of thrilling ride in the show, so in (the 2003 production of 'Much Ado'), we did it, and it was wonderful. So I thought, 'Let's do that again,' even though I knew I wouldn't block it in quite the same way. Some trees that were there before are gone now, … but we always need to adjust to whatever's there. … And I have an actress who owns a horse. So why not?"
Why not, indeed.
"Much Ado," of course, is one of Shakespeare's most popular comedies. Focusing on two couples: young, earnest Hero and Claudio, who fall in love upon first meeting each other; and the more mature and wry Beatrice and Benedick, who verbally, comically spar as rivals before being tricked into a romance.
PREVIEW
"Much Ado About Nothing"
Who: Shakespeare in the Arb.
What: Director Kate Mendeloff helms this annual outdoor traveling production of a Shakespeare play - this year, "Much Ado About Nothing" - performed by community members and U-M students. The comedy focuses on two couples falling in love: one young, earnest couple who is tragically torn apart by a villain's meddling; and a more mature, cynical, and witty couple who begin as verbal sparring partners but end up lovers.
Where: Nichols Arboretum. Attendees must enter and buy tickets at the park entrance located at 1610 Washington Heights, in Ann Arbor,
When: Thursday-Sunday at 6:30 p.m., June 6-9, 13-16, and 20-23.
How much: $20 ($17 for seniors 62 and older; $10 for students with ID and kids age 5-17; kids under 5, free). Tickets are sold on a first-come, first-served basis on the evening of each performance; box office opens at 5:30 p.m. Attendees will move to different parts of the park as the show progresses, and will sit on the ground (patrons are encouraged to bring blankets or lawn chairs).
"At the core, it's a true romantic comedy, but it also has this serious and kind of disturbing plot," said Mendeloff. " … There's such an interesting contrast between the couples. … Benedick and Beatrice know each other's faults. … They accept each other for who they are, while Hero is more an image in Claudio's mind. He has no idea who she is. … He's in love with love, not with her."
Claudio and Hero's love is tested, with terrible results, by meddling Don John, Claudio's half-brother who embraces the role of villain.
"He's been trying to get his brother's respect, … but his brother has a favorite that's not him, and he doesn't trust him, so I think the idea that he's a bastard, and so in some way not really seen as Claudio's brother - (Don John) is lower, yet he's put in the position of being an aristocrat and despised as 'other.' And this clearly motivates his behavior."
Shakespeare in the Arb, a theater company that includes U-M students as well as community members, consists of about 40 people this year, with several roles double- (or even triple-) cast for the course of the show's run.
Mendeloff said that there were lots of new faces this year, but both sets of Beatrice and Benedick are, fittingly, SITA veterans. Plus, Mendeloff is excited about how she's staging Hero's (spoiler alert?) fake funeral.
"There will be music … and tiki torches, and it will be at a time of night when it's quite dark," said Mendeloff. "I think it will be kind of haunting."
Of course, these are the kind of elements that can make environmental theater so special; and Mendeloff has had great weather, for the most part, for the production's 4-5 weeks of rehearsal.
But then sometimes, there are loud trains and helicoptors to contend with.
"You just have to adapt when you do environmental work and say, 'OK, how can I be creative with this?'" said Mendeloff.
Rest assured that Mendeloff, after 13 years at the helm of SITA, almost always finds a way.
Jenn McKee is an entertainment reporter for AnnArbor.com. Reach her at jennmckee@annarbor.com or 734-623-2546, and follow her on Twitter @jennmckee.