Posted on
Sat, Jan 21, 2012 : 6:07 a.m.
Shakespeare meets 'Gunsmoke' in A2CT's upcoming 'Much Ado About Nothing'
By Jenn McKee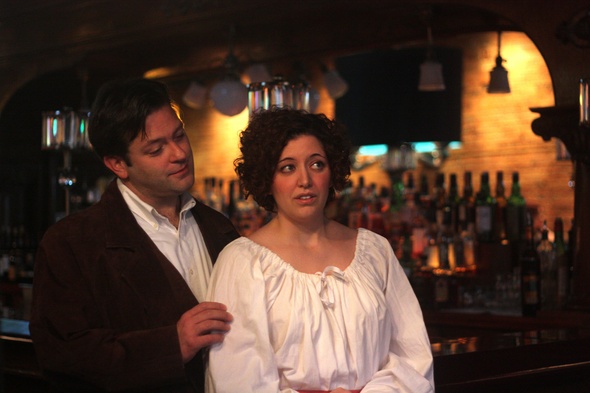 Photo by Tom Steppe
The worlds of Shakespeare and "Gunsmoke" will collide when the
Ann Arbor Civic Theatre
stages the classic comedy "Much Ado About Nothing," as re-imagined in the 19th century American West.
How did director Cassie Mann arrive at this concept?
"When I was watching the last version (of 'Much Ado') that Civic did (in 1993), there's one point when Don John, the bad guy, … comes in, and in that instant, I pictured him coming into one of those Old West bars, where the doors swing behind him, and everything just stops in that instant," said Mann. "That started me thinking it through, and with its good guys and bad guys, it just seemed a perfect fit."
In Civic's new production, the play opens with Miss Leona welcoming Marshall Pedro and his posse back from a skirmish on the plains. With Pedro is a young cowboy, Claudio, who falls in love with Leona's daughter, Hero, and plans to wed her. Also with Pedro is Pedro's estranged brother John, whose bitterness and envy propel him to create mischief and mayhem in the sleepy, frontier town. Witty and commitment-phobic Beatrice, Hero's cousin, and equally marriage-shy cowboy Benedick match wits throughout, and the residents of Mesa are thrown into a compendium of mistaken identity, love, trickery, and fun.
Mann not only set the play entirely in a small Kansas town's saloon in the 1850s, but also did some cutting to shorten the play's running time, and switched the gender of a few characters—most notably, Leonato became Miss Leona, the owner of the saloon.
PREVIEW
"Much Ado About Nothing"
Who: Ann Arbor Civic Theatre.
What: In this community theater production, Shakespeare's beloved comedy is re-imagined in the American West of the 19th century, complete with bar maids and cowboys.
Where: Arthur Miller Theatre, in U-M's Walgreen Drama Center, 1226 Murfin.
When: Thursday-Saturday at 8 p.m., Sunday at 2 p.m., Jan. 26-29.
How much: $15 on Thursday, $20 Friday-Sunday ($18 for seniors, $10 for students).
"Miss Leona's bar is similar to Miss Kitty's on 'Gunsmoke,' in that you're never exactly sure what kind of a saloon this is, and whether the bar maids are really just bar maids," said Mann. "(The Leonato gender switch) works particularly well when (Leona) goes ballistic when she thinks her daughter has fooled around with someone else before the wedding. And it just happened that when I changed the gender, a potential romance suggested itself between Miss Leona and Don Pedro, who's the marshal of the town."
54 people turned up for "Much Ado"'s auditions, to Mann's happy surprise, so she decided to add some non-speaking roles (poker players and bar maids) to more fully flesh out the show's atmosphere. And one of the most coveted roles at auditions was Hero.
"Girls love to play her," said Mann. "So that was the hardest role to cast. There were a dozen wonderful girls who read for it."
Meredith Deighton ultimately landed the part, while others featured in the show include Chrissie D'amoto (Miss Leona), Heather Liebal (Beatrice), Artun Kircali (Claudio), and James Ingagiola (Benedick).
"I've always loved ('Much Ado')," said Mann. "I love how accessible it is. … It's Shakespeare, so you can get so much out of the text, but you can also stage it in a way so that the physicality really tells the story. My daughter was 8 when she saw the Kenneth Branagh movie adaptation, and she loved it. It just lends itself to broad strokes, and telling the story through action.
" … Shakespeare afficianados will love (Civic's production), and those who are kind of afraid of—or not as comfortable with—Shakespeare will get it, too."
Jenn McKee is the entertainment digital journalist for AnnArbor.com. Reach her at jennmckee@annarbor.com or 734-623-2546, and follow her on Twitter @jennmckee.