Posted on
Wed, Mar 6, 2013 : 5 a.m.
Sharon Shannon bringing her unique Irish musical blend to The Ark
By Kevin Ransom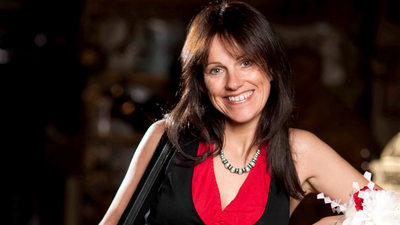 Sharon Shannon
, the wonderfully talented Irish accordionist, is renowned among fans of traditional Irish music, but she's also built up a sizable audience among those who enjoy crossover Irish music—that is, music grounded in that tradition but which also incorporates other elements, like pop, rock, country and American folk. Shannon is adept at both the trad and crossover styles, and loves all of it.
And in her her native Ireland, she's a legitimate superstar who has notched several No. 1 albums and singles, and enjoys multi-platinum album sales.
Shannon is also known for her many collaborations over the years: Before releasing her debut solo album in 1991, she did a stint in the Waterboys, and that solo debut included guest appearances from folks like Adam Clayton (U2 bassist) and Donal Lunny, a trad-Irish figurehead who played bouzouki in the hugely influential Irish group Planxty.
Ever since, she has collaborated with many other artists, including the Chieftains, Sinead O'Connor, Jackson Browne, John Prine, Kirsty McColl and Steve Earle. But her latest album, "Flying Circus," found Shannon engaging in a collaboration that was a first for her—recording with a full orchestra. On the disc, Shannon and her band are accompanied by the RTE Orchestra, playing songs that were mostly co-written by Shannon and Jim Murray, her longtime composing partner and guitarist. The orchestral arrangements were courtesy of Joe Csibi, former musical director for Riverdance.
PREVIEW
Sharon Shannon
Who: Supremely talented accordionist who's a big star in her native Ireland.
What: Shannon is adept at traditional Irish jigs, reels and airs, but also likes to create hybrids that incorporate other elements, like pop, rock, country and American-folk styles.
Where: The Ark, 316 S. Main St.
When: 7:30 p.m., Sunday, March 10.
How much: $30. Tickets available from The Ark box office (with no service charge); Michigan Union Ticket Office, 530 S. State St.; Herb David Guitar Studio, 302 E. Liberty St.; or online from MUTO.
"I'd always wanted to do a record with an orchestra—it's something I'd thought about for many years, but I thought it might be an impossible undertaking, partly because I figured it would be really expensive, and also because I knew it would take a long time to pull the arrangements together, and rehearse with an orchestra," says Shannon, who
comes to The Ark on Sunday
. That's one week before St. Patrick's Day, so this show would be a perfect one to kick off the weeklong celebration of All Things Irish.
"But then this opportunity came our way—the orchestra approached me, and they paid for it!," says Shannon happily, with a laugh. But it was indeed a time-intensive undertaking, as Shannon and the orchestra worked on the compositions and arrangements on and off for six years. "We would do a performance, and then I'd go on tour with my band, and come back, and we'd tinker with the arrangements, and do another performance, and continue tweaking the arrangements, and I'd go out on tour again," says Shannon, explaining record's gestation.
She was never worried that her accordion might be overwhelmed by all of those pieces, though, "because we'd already recorded the basic tracks with my band, and then the arrangements were built around those basic tracks," says Shannon during a phone interview from her dressing room in a theater in Manchester, England, a couple of hours before performing there that night.
"But we just got a great kick out of that huge sound, especially the string section and the brass," says Shannon. "Over the years, we've heard a lot of pop and rock albums featuring an orchestra, and Irish music is the greatest music in the world, so I figured this music also deserved to be performed with an orchestra."
The record does sound lush and sweeping, with tracks that range from the bouncy "Top Dog Gaffo," dedicated to her dog, Gaffo, who had died the year before, to the brooding and haunting "Cape Clear." And, throughout, of course, Shannon's accordian work is deft, percolating, soulful and / or infectious.
And the pieces from "Flying Circus" are easily adaptable to the smaller, two- or four-piece ensembles she typically takes out on tour, she says.
Currently, her live shows feature just her and Alan Connor, "a genius musician who plays keyboards as well as great electric guitar," effuses Shannon. "He's so amazing. Every night, we've been getting standing ovations, and I get a great boost out of playing with him, and I'm really enjoying the way he is interpreting my tunes. We're playing songs from all of my albums."
Shannon, who lives in Galway, grew up on a farm, which was likely the spark for her becoming a huge animal lover and animal-rights / animal rescue activist and a patron of two animal-rescue organizations in Ireland. One is MADRA, which focuses on rescuing dogs in the Galway area. The other, Animal Heaven Animal Rescue Ireland, "saves animals all over Ireland—dogs, cats, horses, birds, wildlife, everything," she says.
Shannon acts as a spokesperson for the groups. "I help them raise funds, and raise awareness, and do a lot of press to help them along those lines," she says. One campaign she is involved in is Adopt Don't Buy, whose message is a simple one: "We strongly encourage people to adopt animals from shelters and pounds, instead of buying from breeders," stresses Shannon.
"For every animal that is bought from a breeder, an animal is killed at a shelter," she laments.
Not surprisingly, Shannon has provided a home to many animals over the years, and says she presently has seven dogs and four cats. "I have a walled-in yard, and I live by the sea, and there are loads of places to take them walking, and they're very active, and they get to go swimming, and I made sure they get out for a walk twice a day."
That's even true when she's on tour, when she has someone stay at her house to tend to the dogs, take them on their twice-a-day romps and walks, etc.
Shannon also made a comical video for the song "Top Dog Gaffo," which is subtitled "A day in the life of a rescue dog," and features amusing effects like superimposing the head of one of her dogs onto her body while she is playing accordian, etc.
She released the song as a single, with all of the proceeds going to MADRAS. "We also did it to encourage people to adopt rescue dogs," she says—"and to show how amazing they are, and how much joy and love they can bring to your life."
Kevin Ransom, a freelance writer who covers music for AnnArbor.com, can be reached at KevinRansom10@aol.com.