Posted on
Fri, Jun 28, 2013 : 5:10 a.m.
She & Him bringing their breezy pop sounds to Hill Auditorium
By Kevin Ransom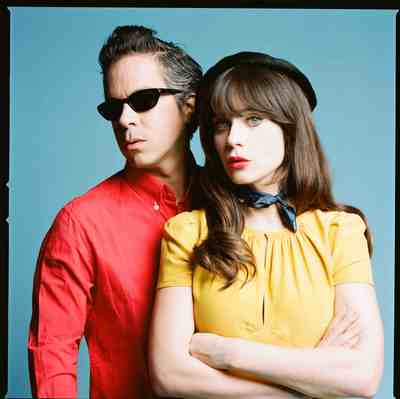 When Matt Ward and Zooey Deschanel first met on the set of the 2007 movie "The Go Getter," they very likely never guessed that they'd end up forming a musical duo that would become a second career (or, at least, second creative outlet) for each of them.
Deschanel was one of the stars of the film, and she and Ward were tapped to perform Richard and Linda Thompson's iconic 1974 song, "When I Get to the Border," which was played over the end credits.
But, here we are, six years later, and they've now recorded four albums together as She & Him, the most recent being "Volume 3," released in May. (They've taken a minimalistic approach to titling their albums, which have been dubbed "Volume 1," "Volume 2" and "Volume 3." There was also the 2011 holiday album, "A Very She & Him Christmas.")
She & Him come to Hill Auditorium on Monday.
Their collaboration is an unusual one. Ward—who professionally goes by the moniker M. Ward—is much more musically accomplished than Deschanel: He's completely devoted to music—songwriting, recording, producing and playing guitar (among other instruments), both as a solo artist and as a collaborator with others, like when he was a member of the Monsters of Folk "supergroup" in the mid-to-late 2000s.
Meanwhile, Deschanel's main focus is her acting, which has included turns in breezy (mostly lightweight comedy) flicks like "(500) Days of Summer," "Our Idiot Brother" and "Yes Man," plus her current TV sitcom, "New Girl."
And while Ward is a talented songwriter who composes most of the songs on his own albums, Deschanel uses She & Him as a vehicle to express her own songwriting inclinations. And Deschanel clearly has a jones for a specific era and sound. So, most of the songs on the She & Him albums channel the early-1960s Brill Building / girl-group / Phil Spector sounds that she is clearly hooked on.
PREVIEW
She & Him
Who: Musical duo consisting of guitarist / arranger / producer M. Ward and singer / pianist Zooey Deschanel, who is better known as an actress.
What: Though Ward writes his own songs for his solo albums, Deschanel uses She & Him as a vehicle for her own songs, which draw heavily on the Brill Building / girl-group / Phil Spector sounds of the early 1960s.
Where: Hill Auditorium, 825 N. University Ave.
When: Monday, July 1, 7:30 p.m.
How much: $35 - $45. Tickets can be purchased at Ticketmaster locations or online.
In fact, her immersion in those sounds is so deep that many critics have found her songs on the She & Him albums to be too derivative, and have suggested that Deschanel has come too close to just recycling the melodies and vocal harmonies from those old songs, without bringing much originality to the table.
Most of her songs on "Volume 3," like on the previous albums, are in that vein, complete with ooo-ooo-ooo vocal harmonies—which Deschanel creates by overdubbing her own voice on as many as 10 or 15 tracks on a single song, to replicate the sound of the multiple backing singers in those '60s girl groups.
Meanwhile, Ward mostly favors roots-music guitar styles, so many of his guitar licks and solos on the disc have the growling, low-note twang of classic country, or a surf-guitar feel, or a Chicago-blues vibe.
And while Deschanel is She & Him's designated songwriter, Ward does the arranging and producing. On "Volume 3," he crafted smart string and horn arrangements for several of the songs, and also experimented with a Moog synthesizer to find new textures.
Deschanel wrote 11 of the 14 songs on the album. One of the three cover songs is Harry Noble's "Hold Me, Thrill Me, Kiss Me"—a '60s-era hit for pop crooner Mel Carter. (Shirley Bassey and Connie Francis also recorded memorable interpretations.) Another is a re-casting of Blondie's "Sunday Girl." On the third, they go right to one of Deschanel's main sources with their interpretation of "Baby," composed in the '60s by the Brill Building songwriting team of Jeff Barry / Ellie Greenwich, which they originally recorded themselves as the Raindrops.
"Volume 3" kicks off with the sunny retro-pop of "I've Got Your Number, Son," featuring the aforementioned girl-group phrasing, syncopated hand-claps and swooning background vocals, plus a playfully rudimentary but insistent piano line.
"Never Wanted Your Love" drinks from the same well, but also suggests something Herman's Hermits might have recorded in 1965, with Ward adding some guitar licks that echo the Ventures. "Baby" is boppy and infectious, with some sinuous and tasteful guitar lines from Ward. The fizzy "I Could Have Been Your Girl," meanwhile, is augmented by cheesy-fun organ fills and Ward's Southern-twang solo.
Deschanel uses the GarageBand computer program to create and record her demos, and then sends them to Ward as audio files.
"I normally spend quite a long time listening to the demos and trying to figure out where the song might want to go," Ward recently told Emusician.com. "When I get demos, it's always a process of transferring everything to guitar. That was my first instrument, and it's what I'm most comfortable operating with. So, I will arrange strings and other instruments just by using the guitar as a reference.
"A lot of times, when we're tracking I'll play just the low notes, the bottom couple of strings of the guitar, to act like the bass guitar on a song like 'Turn to White.'"
As for his arranging skills: "Matt is an incredible arranger of strings," said Deschanel in a press statement. On "'Never Wanted Your Love' - the strings on that are amazing. That song started out with a drum fill but Matt took that idea and had the strings do a version of the fill. It was such a cool idea."
Kevin Ransom is a freelance writer who covers music for AnnArbor.com. He can be reached at KevinRansom10@aol.com.