Posted on
Thu, Mar 28, 2013 : 1:07 a.m.
Danny Glover and 'Shenandoah' filmmakers discuss race at the Michigan Theater
By Jenn McKee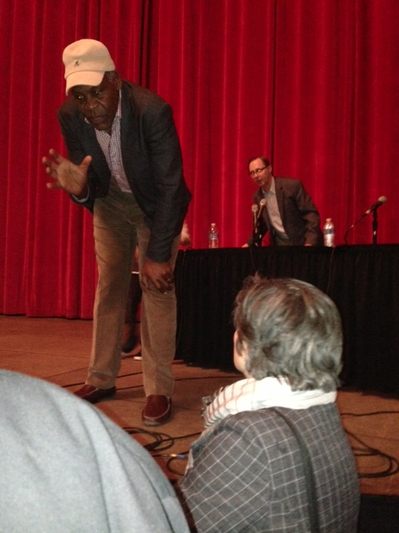 Jenn McKee | AnnArbor.com
Actor/activist
Danny Glover
and his 9-year-old grandson sat in the
Michigan Theater
Wednesday evening, eating popcorn alongside more than 600 patrons who came to view the documentary Glover produced, and U-M professor (and Pulitzer Prize-winning photographer)
David Turnley
directed, "Shenandoah."
The film chronicles the fallout from racial violence in the small, former mining town of Shenandoah, Penn.
Late one night, while walking through a park, a group of drunk, white high school football players started harassing a woman when a Mexican man intervened. The players beat the man to death, and local police worked to cover up the incident; but the victim's fiancé, along with civil rights attorney Gladys Limon, labored to keep a spotlight on the case.
Limon was part of a nearly 90-minute post-screening panel discussion at the Michigan Theater, along with Turnley and executive producers Glover and Billy Peterson. Residential College director Angela Dillard acted as moderator.
Glover was the first panel member to speak, and he spoke of both his personal history and the movie's impact for him.
Glover also related a story about Martin Luther King, Jr. saying to Harry Belafonte, "'I don't know if I'm integrating my people into a burning house.' And Harry Belafonte takes a moment, … and says, 'With all the work we're doing, what do you suggest we do?' And Dr. King says, so eloquently and poignantly, 'I guess we have to become firemen.' So I guess, on the one hand, not only do we have to become firemen, we have to …Â reconstruct, with a new language, and new imagination, what these relationships are."
Limon, meanwhile, spoke of the need to look at the bigger picture on a global scale. "We need to get beyond the superficial distinction that we continue to get caught up with," said Limon. "We allow our politicians to use politics of division and distraction. There are so many issues that affect all of us on an equal basis, but we get so caught up with racial tension, racial differences, blaming each other - we don't have time for that any more. Our human condition is at such a dire level that we really need to get beyond that. The way I think of it is, we live in this house, and we're still fighting about who's going to take what role in the house, and how will we manage the household, and our house is burning. … We need to draw on our strengths and similarities."
Turnley discussed how his time working as a photographer for the Obama campaign in '08 partly inspired what would become "Shenandoah," and how his own experience as a former football player informs his view of the story.
"We're raised from the time we're very young to put stock in the loyalty of family," said Turnley. "Then as we get to school, we're raised to put stock in the loyalty to our school, and pretty quickly in our team, and then, pretty quickly, in our community and then our country. And if you think about it, these all become our tribes. On the one hand, it seems that these steps of how we are, in some sense, acculturated to put a positive value on affinity, on loyalty, on team, it equally becomes precisely what happened in Shenandoah, Pennsylvania, where it became the basis of exclusion."
Though an all-white, local jury found the defendants in "Shenandoah" not guilty, the police cover-up was ultimately investigated by federal officials, and the same defendants were charged at the federal level for hate crimes.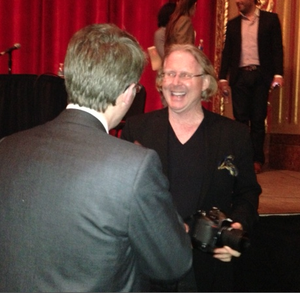 Jenn McKee | AnnArbor.com
"But I wonder, what are they going to come out as?" Limon asked during the discussion. "Do they come out better people, or when they're in prison, are they segregated and now hanging out with a white gang and coming out really racist now? What do we do as a society when we deter crimes and punish people for their bad behavior? How do we prepare people to come into our society as better citizens? So there are a lot of these questions that we constantly need to think about, and all of these themes that the movie is good at raising."
Near the end of the film, a group of young people in Shenandoah do a march through town in recognition of Martin Luther King Day. And while one audience member argued that the gesture rang hollow, Peterson said, "I think you have to start somewhere. And that's a start, in my opinion."
And when the panel was asked what people could do in their individual lives to make the situation better, Peterson argued for speaking up when someone makes an off-color remark.
"The best thing everyone can do is just be aware and be present in your situation, and be ready to add that voice," said Peterson. "Because … we're all responsible for that. We all need to be part of the conversation. We're not meant to simply sit in the stands."
Yet by night's end, Glover quickly shifted back into Grandpa mode, saying into the mic, "If anyone spots a 9-year-old boy, let me know, because I need to find him."
Jenn McKee is the entertainment digital journalist for AnnArbor.com. Reach her at jennmckee@annarbor.com or 734-623-2546, and follow her on Twitter @jennmckee.