Posted on
Sun, Jun 20, 2010 : 5:50 a.m.
Concert will help pay medical bills for the late P-Funk musician Garry Shider
By Roger LeLievre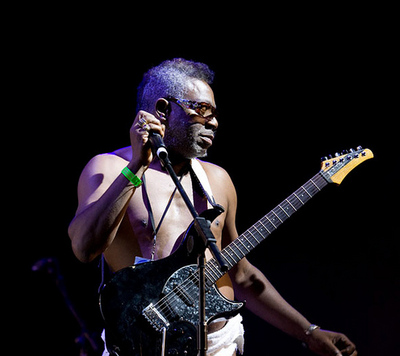 A benefit show Thursday night will raise money to help the family of Parliament-Funkadelic singer/guitarist/producer Garry Shider, who died Wednesday from cancer, pay his medical bills.
Like many musicians, Shider was uninsured, said Aaron Bookvich, Shider's longtime friend and fellow musician who is organizing the benefit. The concert will be held at Savoy nightclub in downtown Ypsilanti. Although Shider hadn't lived in this area since the 1980s, he had deep roots and many friends in Michigan and Ann Arbor, Bookvich said.
"He goes back playing with Parliament-Funkadelic since the early '70s. He contributed to (the P-Funk hits) 'One Nation Under A Groove,' 'Getting to Know You' and 'Cosmic Slop' (and) he was inducted in the Rock and Roll Hall of Fame with P-Funk (in 1997). He's collaborated with Black Crowes, his first band was United Soul, produced by George Clinton," said Bookvich.
During Parliament-Funkadelic performances, guitarist Shider was known for appearing in a diaper, earning him the nickname Diaper Man. He also co-wrote many Parliament-Funkadelic songs, as well as George Clinton's classic "Atomic Dog."
PREVIEW
Who: Muruga & Free Funk and Enema Squad (with P-Funk drummer Gabe Gonzalez). With other guest P-Funk alumni TBA and DJs Ultra Man and Craig Huckaby.
What: Benefit concert to help raise money to pay the medical bills of Parliament-Funkadelic singer/guitarist/producer Garry Shider, who died Wednesday.
Where: Savoy, 23 North Washington Street, Ypsilanti.
When: 8 p.m. Thursday, June 24.
How much: $5 (under 21, $7).
The bands Muruga & Free Funk and Enema Squad (a P-Funk offshoot, with P-Funk drummer Gabe Gonzalez) are scheduled to perform at the benefit, along with other guest P-Funk alumni and DJs Ultra Man (Dave Gonzales from Enema Squad) and veteran Detroit DJ Craig Huckaby.
"It's going to be a funky good time, a benefit for a serious cause, but there will be a lot of fun and dancing," Bookvich, who plays with Free Funk, added. "There will be a lot of energy and some special guests from the P-Funk All Stars past and present."
Bookvich said Shider, 56, had undergone chemotherapy for brain and lung cancer, but his prognosis was complicated by a minor stroke that left him unable to perform.
Shider was featured in Guitar Player magazine three times, appeared on many late-night shows, including "Saturday Night Live," and has had songs included in several movies, including "Bad Boys," starring Sean Penn. He'd been the recipient of several Grammy nominations for songs such as Kirk Franklin's "Stomp," which was inspired by "One Nation Under a Groove."
The benefit's goal is $500,000.
"All the money raised at the show — every penny of ticket sales, and every penny of a raffle, 100 percent will go to the medical fund." Bookvich said. "All the bands are donating their time, and the cost of promotion is being donated as well."
Bookvich said he expects a large crowd at the Savoy (formerly Club Divine).
"I'm sure throughout the '80s he lived here on a part-time basis recording in the studio, and several members of P-funk are from Detroit — some currently live there and they have a huge extended family of friends in the Detroit area," he explained. "P-Funk is a real family band, they have a large extended family and we consider ourselves part of that," he added.
The benefit is being arranged in partnership with Sweet Relief Musicians Fund, a national non-profit charity assisting career musicians facing illness, disability or age-related problems. Donations to Shider's cause may also be made online at his medical fund website.
Roger LeLievre is a free-lance writer who covers music for AnnArbor.com.