Posted on
Fri, Jul 15, 2011 : 5 a.m.
Cuban-music torch bearers Sierra Maestra playing The Ark
By Kevin Ransom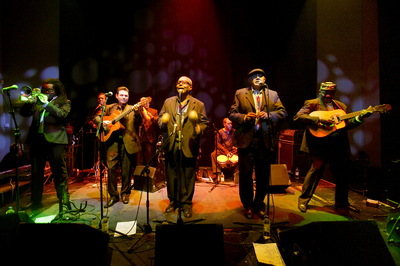 photo by Bart Madjeski
Prior to 2009, American audiences never had much opportunity during the previous decade to attend live performances by Cuban groups, due to the Bush administration's clampdown on U.S.-Cuba cultural exchanges.
After Barack Obama took office, however, such cultural exchange with Cuba began to reopen.
So, in the last couple of years, U.S. lovers of this simmering equatorial music have been able to "catch up," as it were. In Ann Arbor alone, Cuban-music fans have been able to groove to the music of two such groups in just the last year—the Afro-Cuban All Stars in the summer of 2009 and Septeto Nacional Ignacio Piñeiro de Cuba earlier this year.
And now they'll get another opportunity, because the Havana-based ensemble Sierra Maestra—one of the foremost practitioners of the Cuban son style—are coming to The Ark on Sunday.
The son style probably enjoyed its greatest popularity in the 1920s and '30s, but this percolating, groove-happy genre enjoyed a big revival following the late-'90s success of the "Buena Vista Social Club" movie and album. But Sierra Maestra actually dates its beginnings back to the mid-70s. That's when bandleader Juan d' Marcos González assembled the 9-piece ensemble for a special performance at the University of Havana—the musicians' alma mater. The group impressed audiences with their facility on traditional instruments, including tres, guitar, bongo, guiro, trumpet, and voice, augmented by congas, maracas, and electric bass. (The group took its name from the Cuban mountain-range region where the son style was born.)
PREVIEW
Sierra Maestra
Who: A Cuban group that is one of the foremost practitioners of the Cuban son style and which traces its beginning s back to the 1970s.
What: The group is a torch-bearer of the son style—a percolating, groove-happy, traditional form—but is also praised for inspired innovations.
Where: The Ark, 316 S. Main St.
When: 7:30 p.m. Sunday.
How much: $20. Tickets available from The Ark box office (with no service charge); Michigan Union Ticket Office, 530 S. State St.; Herb David Guitar Studio, 302 E. Liberty St.; or Ticketmaster.com.
Sierra Maestra quickly became a national sensation in Cuba, via its yeoman perfmance schedule and regular TV gigs. The group won national music awards in each of their first 3 years of existence. The band's 1981 debut recording, "Sierra Maestra Llegó con el Guanajo Relleno," was a big seller, and they parlayed glowing reviews into even greater popularity, which in turn generated interest in other countries. So, the group boasted a healthy international touring schedule in the 1980s.
They made frequent trips to Sweden and France and also to the International Film Festival in Spain. In 1983, they recorded the soundtrack to the Cuban TV series "Las Impuras" and in 1988, their song "A Los Rumberos de Belen" was used by Robert Redford for his film "The Milagro Beanfield War."
In the 1990s and 2000s, their records became much more available in the US and other nations outside of Cuba. As the group continued to evolve, adding new musicians, they became acclaimed for being not only the torch-bearers of the rich son tradition, but also as inspired innovators.
Eduardo Himely, the group's musical director and bassist, still vividly recalls their 1978 breakout gig—the one that made such a big splash and triumphantly announced their emergence as a powerful musical force in Cuba.
The gig was in Havana, and the event was the World Festival of Youth and Students—an event organized for thousands of young Cuban communists. Himely remembers that the band members shot anxious glances at one another as they launched into a song from the son tradition—a tradition that was a rich part of the nation's cultural history, but which by then had fallen out of fashion with the Cuban mainstream.
The crowd did a double take before "going wild," Himely told Songlines magazine. "That was definitely our big break," he says. After that, "we played almost every day, all over Cuba, in public places—parks, mainly—for parties and celebrations during carnivals ... We played the plazas of Havana, Santiago, Baracoa, and almost every weekend we'd play at a place called the Student's House, a sort of university hangout. We were very, very busy."
In recent years, "We've try to seek out younger writers who know and respect the son tradition but can take it in new musical and lyrical directions," added fellow co-founder Alejandro Suarez.
On their latest album, "Sonada Ya," recorded in Havana and released last year, the group is in robust form. "No Me Guardes Rencor" burbles with improvisational spontaneity; "Perdona Mi Tradicion" is marked by a flowing, lyrical trumpet line and "A Una Mujer" dares you to stay off the dance floor. But the players also know their way around romantic ballads and swinging, jazz-inflected tunes.
Sierra Maestra's popularity inside of Cuba never waned, which Himely told Songlines is due to "hard work, friendship……and incredible music."
Kevin Ransom is a free-lance writer who covers music for AnnArbor.com. He can be reached at KevinRansom10@aol.com.