calendar of events
happening today:

Sing along with Mary Poppins or get Tickled Fancy at a burlesque show

Posted on Sun, Jul 29, 2012 : 5:56 a.m.
FILM
The Summer Classic Film Series will present "Sing-Along Mary Poppins" at the Michigan Theater. 1:30 p.m. There will be an encore screening on Tuesday at 7 p.m. A movie host will introduce the film and lead everyone through the interactive props. Attendees are encouraged to dress as their favorite Mary Poppins character or in a costume inspired by the movie. General admission: $10. Students, seniors: $8. Michigan Theater members: $7.50. The theater is at 603 E. Liberty St., Ann Arbor. 734-668-8397.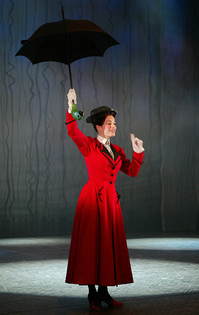 The Associated Press
ENTERTAINMENT
Ann Arbor's own burlesque troupe, Tickled Fancy, will bring its show to Live! in Ann Arbor. 7 p.m. This is your last chance to see the two-hour-long burlesque variety show that has been sweeping the Midwest (to rave reviews!). They have all your favorite acts honed to perfection and ready to go out with a bang; magic, living dolls, clowns, creatures of fantasy, comic book cuties, video game vixens, disco darlings and so much more. Adults only. $10. Live! is located at the corner of First and Huron Street, Ann Arbor.
FESTIVAL
The Pinckney Palooza Community Celebration ends at St. Mary's Catholic Parish today. 12:30-5 p.m. There will be rides, interactive games, music, a unicylce show and more. Have a tea party with Cinderella from 2-4 p.m. For information, including a complete schedule, visit http://stmarypinckney.org/#/pinckney-palooza. Admission and entertainment are free. Charges for food, games and rides are family budget-friendly. On the St. Mary's festival grounds at 10601 Dexter-Pinckney Road in Pinckney.
MUSIC
The Kerrytown Market & Shops Courtyard Concert will feature Drummunity. 1-3 p.m. Join in a drum circle led by Lori Fithian and play on a collection of hand drums and percussion toys- everything from hand drums, pickle buckets, salad bowls to muffin tins. Musical experience is not necessary, it's impossible to play out of tune. Free. 407 N. Fifth Ave., Ann Arbor. 734-662-5008.