Posted on
Mon, Apr 22, 2013 : 10:13 a.m.
Sklar Brothers coming to the Ann Arbor Comedy Showcase
By Ann Dwyer
The Sklar Brothers, Jason and Randy, are pretty much what everybody assumes about twins. You rarely see one without the other and they often finish each other's sentences. Seeing them onstage can make you think you have double vision (except that one wears glasses). But just think of it as two for the price of one when they appear on the Ann Arbor Comedy Showcase stage.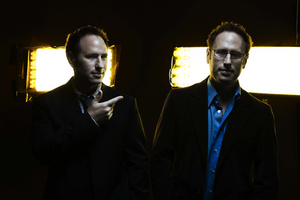 Best known for appearing comedic shows such as "Children's Hospital" and their Comedy Central stand-up special, the brothers have also appeared in dramas such "Law & Order" and "Grey's Academy." But those are but a few of the shows the two have been featured in.
The brothers attended the University of Michigan and were members of the Alpha Epsilon Pi fraternity before deciding to pack it up and move to New York to try to make it in comedy. Eventually, MTV chose them to write and star in their own show, "Apt. 2F." The rest is history.
Their stand up act is one of a kind. Their delivery is sometimes a tag-team effort of finishing each others sentences, sometimes a dialog and sometimes they talk over each in a way that somehow punches up their jokes.
Friday & Saturday, April 26 & 27, 2013. 8 & 10:30 p.m. $15 in advance; $17 at the door. The AACS is downstairs at 314 E. Liberty St., Ann Arbor. 734-996-9080.