Posted on
Mon, Nov 28, 2011 : 11:56 a.m.
Skyline's 'Into the Woods' succeeds, despite technical glitches
By AnnArbor.com Freelance Journalist
Photo courtesy of Skyline Theatre
This is part of an ongoing series of theater reviews of local high school productions, written by high school students, appearing on AnnArbor.com. This week, Huron High School's Eleanor Howell-Shryock (see bio at end of story) reviews Skyline High School's production of "Into the Woods."
"Once upon a time." So begins Skyline High School Theatre's production of Stephen Sondheim's "Into the Woods," a musical in which our favorite storybook characters' happy endings are put to the test.
The play is centered on a baker (Mario Merola) and his wife (Ilana Rashes) who find out that they have been cursed by a witch (Richa Saran) and must collect a series of strange objects if they ever wish to bear a child. On their journey to undo the curse, they encounter a beautiful princess named Cinderella (Emma Griffith); a young girl, Little Red (Kate Topham); a boy named Jack (Dante Hill) and his mother (Christiana Hench). Just as it seems they have all found their happy endings, nearly all their hopes are smashed, quite literally, by the feet of a vengeful giant (voiced by Gracie Taylor-Loring).
I was pleasantly surprised by Skyline's production of this classic. Skyline's Theatre program is still in its infancy, this being its fourth year and its first with a full program. In terms of the show's acting and vocals, the production soared.
The show featured many great performances, both from leads and minor characters. Griffith's Cinderella was truly fantastic. Not only did she have one of the strongest voices in the cast, but she was truly believable as a girl struggling to find a world she fit into. Saran's witch was also something to marvel at. Although cruel, she brought a much needed realism to the show and was able to energize many of her fellow actors with her appearance on stage. Topham's development from the familiar Red Riding Hood, a girl lost in the woods, to a knife-wielding, pelt-sporting young woman, was also a joy to behold.
The characters who most surprised me were those who supplied much needed comic relief as the curtains went up for the second act and the play took its dark turn. Cinderella's step-sisters (Rachel Xydis and Lindey Beaver) could hardly set foot on stage without being met with gales of laughter, especially after their sarcastic characters are blinded by birds and reduced to walking about with sunglasses and canes. It was Cinderella's Prince (Simon Suboski) who won the most laughs. From his first moment on stage, in which he tossed back his hair, the audience knew this was a boy who wasn't afraid to embrace his inner Bieber. He played his playboy character to a tee and embodied the Prince's one slogan: "I was raised to be charming, not sincere."
Anne-Marie Roberts' direction was superb. The stage never seemed overcrowded, despite the large cast, and she was a master of managing multiple story lines without overwhelming the audience. There were only two direction choices I did not agree with. Cinderella has a running joke throughout the show in which she can talk to and summon birds by singing. Whenever called for, the Narrator would walk onstage and dangle the birds from a stick. This prematurely shattered the wall between the Narrator and the fairytale characters. It made the Narrator part of the narrative and not the one telling it. This intrusion took away from the wit and impact of the characters' realization that they could sacrifice the Narrator to the giant later in the play.
Another risky choice was to have Jack's cow, Milky White (Kyle Gilligan), be played by a person. This would have been incredible if properly executed, but with Milky White's shabby appearance, Jack truly was lucky to get a few beans for her. The main problem with Milky White's costume was that the frame for the front half was left uncovered, I assumed so the actor could move around backstage and be seen during the curtain call. This left the cow looking like it had exposed ribs.
The costumes (Jane Griffith) and make-up (Brittany Roulo) were otherwise nearly perfect, lending the right amount of whimsy and familiarity to the show. It was in other technical areas that the show fell flat. The lighting (Jackson Griffith) was beautiful when creativity was allowed, as with an intricate design of shadows to replicate branches, but was in general too dark. The faces of actors in the background were hard to make out. The sound (Cameron Mclaughlin), when working, was phenomenal. All the microphones were set at the proper volumes and added much to the power of the actors' voices, but the sound system had many glitches, with mics going out for entire songs in the second act.
The painting and set construction (Nadia Beyersdorf) were generally good. The houses of the three main families, which at first resemble storybooks, slowly twirl around to reveal the characters in their homes. This concept was genius, and the painting of each home was immaculate, making them the most realistic of the set pieces. But the houses, and a partial facade of painted trees to show characters had entered the woods, were the only pieces that looked nearly professional.
Despite some technical glitches, however, "Into the Woods" was a wonderful show powered by the dazzling performances of its strong female leads. It is clear that Skyline's young theatre program already has considerable talent and will only improve in the coming years. Ultimately, this journey into the woods was one I was happy to accompany them on.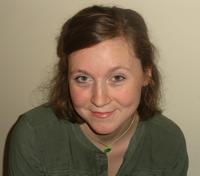 Eleanor Howell-Shryock is a junior at Huron High School who is an editor for The Emery, and President of the Huron Players. She has participated in many productions, her favorite being her first, Oscar Wilde's "The Importance of Being Earnest." She has always been interested in writing and, while undecided as to what she'd like to be, is very interested in journalism and the theatre.